10 Cool and Comfortable Style Tips for Busy Moms

Provided by Cuddl Duds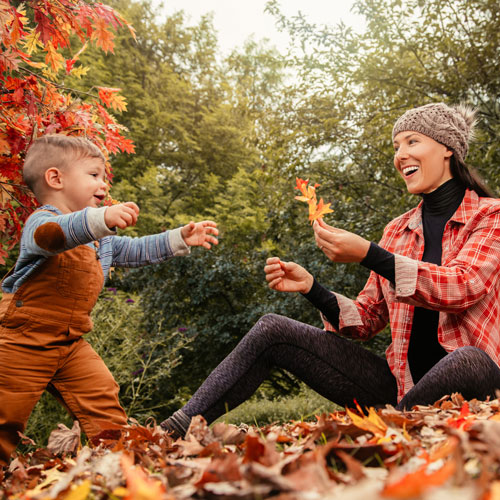 We know you love your yoga pants, mama, but it's time to upgrade your "mom uniform" into something that's comfy and a little more stylish.
By now, the yoga-pant-wearing mom has become a stereotype. And with good reason—those yoga pants are comfortable! But busy moms don't have to trade comfort for style. Adopt these 10 tips and give your wardrobe an instant overhaul.
1. Open cardigans. Take note: Open cardigans are the new sweatshirt or jacket. An oversize cardi elevates skinny jeans and a top to a more stylish level (and gives you extra, um, coverage!), while a cropped one over an untucked button-down top and some cords gives a casual chic vibe. Not into heavy woven knits? Try a unique alternative: Cuddl Duds' Fleecewear with Stretch Long Sleeve Hooded Wrap Up. You'll get that open cardi look with a warm, cozy, relaxed-fit fleece piece that's super stylish.
Underneath, try a Comfortwear Long Sleeve Crew from Cuddl Duds — its contour thumbholes make for easy layering!
2. Infinity scarves. Accessories can turn a ho-hum outfit into a thoughtful one, and patterned infinity scarves are the perfect wear-with-anything accent. Plus, you don't have to worry about your kiddo pulling on necklace beads or ripping a cool dangly earring out of your lobe for the sake of an accessorized look. One super-versatile option to try: Cuddl Duds' Reversible Fleece to Jersey Infinity Scarf.
3. Layers. A layered outfit is a great way to be chic and comfortable—and cozy warm!—while also complimenting your curves. And there's no need to worry about unnecessary bulk with thin, soft layering pieces like leggings and tops from Cuddl Duds. The brand's Softwear with Stretch is ideal for everyday wear, and its classic colors and trendy prints can accentuate every woman's personal style and shape. Plus, there are Cuddl Duds options for the whole family, too.
4. Flow-y dresses and skirts. Moms need to be able to move as fast as their kids, and the loose fit of flow-y dresses and skirts allows for that range of motion while also being pretty darn cute. If maxi dresses aren't your thing, below-the knee midi versions work just as well. Throw on a pair of tights underneath and you can duck-duck-goose all day long and seamlessly transition to a Mom's Night Out.
5. Rompers and jumpsuits. One-piece outfits aren't just for your baby. Stylish rompers (i.e. shorts-onesies) and jumpsuits are popping up everywhere, and they can be a perfect one-and-done outfit for a mom on the go. Celeb moms Jessica Alba, Jennifer Garner, and Kourtney Kardashian have been spotted wearing jumpsuits in a basic black, large floral print, and geometric pattern. And why not? When you bend over to pick up your child, there's no danger of a wardrobe malfunction showing off more of your skivvies than you'd prefer.
6. Ponte pants. Made with tightly knit rayon, polyester, and spandex so they're thicker than traditional leggings yet still stretchy, ponte pants fit like the best pair of yoga pants, yet are way more street-worthy. The curve-skimming fabric is also sewn in panels, which creates slimming vertical lines down the legs. Try them in a skinny ankle cut or flared leg style in dark colors like black, navy, and charcoal.
7. Shirt-dresses and leggings. Whoever invented the shirt-dress is a genius. Whether you like the more tailored look of a button-down, collared dress, or the easy-breezy feel of a T-shirt dress, both are perfect for mamas. Pull on some patterned Softwear With Stretch leggings from Cuddl Duds with a solid color dress, and throw on an open cardi and an infinity scarf and you'll be the recipient of all the compliments at school pick-up.
8. Maternity pants. Part of the appeal of yoga pants is that pull-on, no-zipper, oh-so-comfy waistband, right? Well, you know what also has that: Maternity pants. Just size down and grab some maternity jeans (consider colored denim, too!) or corduroys, and top off with a longish shirt to cover the tummy panel. Shhh, it'll be our little secret.
9. Tunics. These versatile, loose-fitting long tops come in so many colors, fabrics, styles and patterns, they can be worn for almost any occasion. Pop on a tunic over skinny jeans or ponte pants for everything from a playgroup at the park to a Sunday brunch with the fam. Leave it flowy for a boho vibe, or belt it for a more fitted silhouette. The Softwear With Stretch Long Sleeve Cowl Tunic from Cuddl Duds has a body-hugging fit with a high-low hem for a flattering yet comfy silhouette.
10. Ballet flats or boots. With the clichéd yoga pants usually comes sneakers, but that won't cut it with your new mommy wardrobe. Invest in some comfortable and supportive ballet flats or boots—ankle or knee-high or both!—to finish off the new you. Now go chase that toddler!