Health

6 Common Work-From-Home Dilemmas, Solved
Kids barging in on your conference call? We've got a fix for that.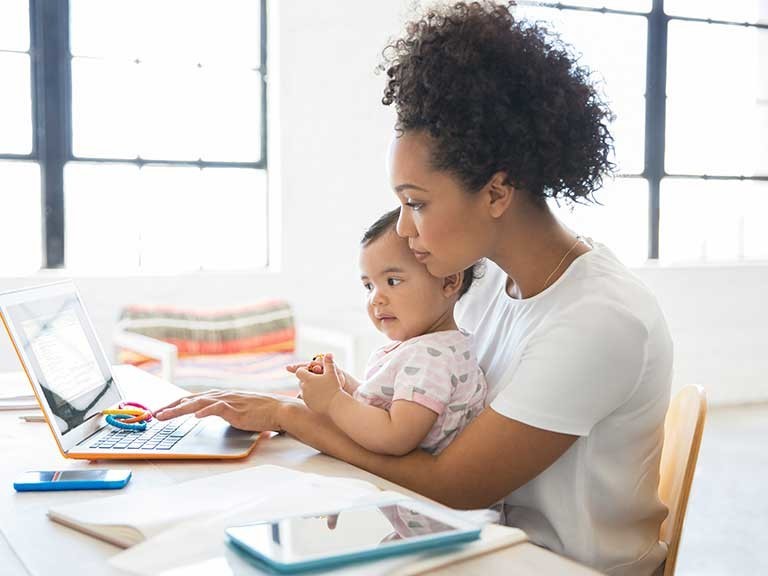 In theory, working from home is a dream—you don't have to shower or change out of your pajamas. But then again, you don't have to shower or change out of your pajamas… and you're mildly stinky and wearing the same sweatpants for days at a stretch. Read on for how to solve the most common work-from-home problems.
The issue: You regularly work from home, and you can't get motivated to shower or leave the house.
The fix: Make dates—plan lunches, coffees, or coworking sessions with fellow work-from-homers or colleagues in your industry. This both cuts down on chronic loneliness and becoming a recluse, and gives you an incentive to shed your sweats, shower, and be social.
The issue: Your kids keep barging in on your conference calls.
The fix: Eliminate the risk by scheduling conference calls or other important phone dates around naptimes or kids' school hours. If you can't confine your work to those blocks, try setting up a mini-desk for your mini-me where she can sit and do quiet activities, like coloring, crafts, or sticker books. Many local libraries also offer activities and classes for kids: Drop them off and head to a quiet table in the adult section when you need to concentrate on a presentation.
The issue: You forage for lunch through your cabinets and fridge and end up eating super-weird potluck-y meals or binge on snacks—all day long.
The fix: Plan ahead for the week with a big FreshDirect or Instacart order chock full of healthy snacks and quick lunch options (like healthy soups and wraps) so you're not scrounging or overeating. While you're planning, you can also pick out large recipes to make for dinner, and pre-portion out the leftovers when you pack them up.
The issue: You're slipping on deadlines and not being productive.
The fix: Short term: Put the remote somewhere inconvenient so you can't turn the TV on for a distraction. Long term: Strike up a work-share partnership with a fellow work-from-home friend or colleague, and put you both on the hook to share your work with each other by a specific deadline. It's another way of holding yourself accountable.
The issue: You're full-time freelance, and you miss your co-workers and the social fun of office birthday and holiday parties.
The fix: Join a co-working space like WeWork, The Attic, or Spacious (which opens restaurants that don't serve lunch as coworking spaces), where you can meet fellow freelancers, make new friends, and take a break from the magnetic pull of your couch.
Find other great health and wellness stories at BHG.com/Strive, EatingWell.com/Strive, MarthaStewart.com/Strive, Parents.com/Strive and Shape.com/Strive.