Health
6 Ways to Teach Your Kids to Give Back

+

It's never too early to show your children how to help others — and this list of ideas is a great place to start.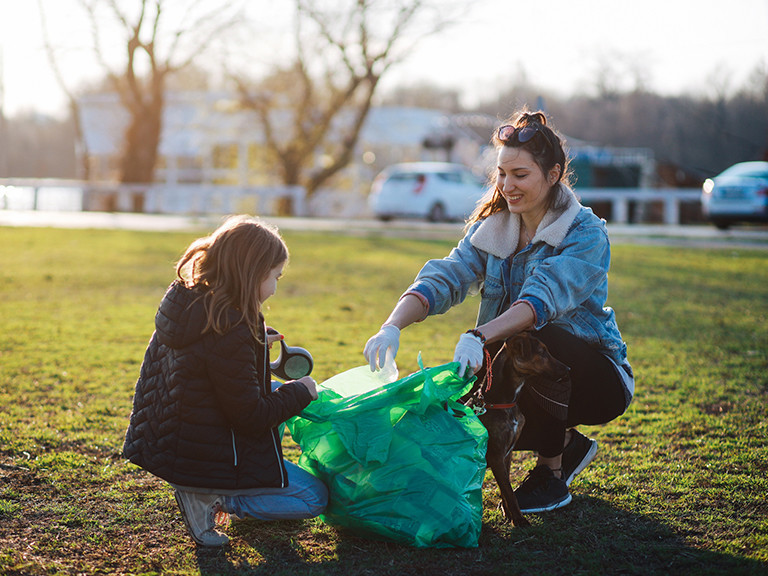 Looking for something new and inspiring to do with your family? Try volunteering! It's a chance to enjoy some bonding time together while helping out the people in your community. Even better: It teaches your children about compassion and opens their eyes to all of the people and causes that need a helping hand. If you haven't done a lot of volunteering together in the past, you might not know how to go about it. Luckily, there are a lot of easy options for ways to help out with kids of all ages.
Create care packages to send to a shelter.
Work with your kid to gather supplies for people who are staying in homeless shelters in your city or town. You can create a sign explaining what you're looking for (travel-sized toiletries, shelf-stable snacks, and new socks are a good place to start) and instructions to drop the items off at your house by a certain date. Then tape the flyers up around the neighborhood. Is your kid a big dog or cat lover? You can do the same thing for your local animal shelter — just ask for treats, toys, and soft blankets.
Help a neighbor who might need it.
Volunteering doesn't have to take all day. In fact, it's just as important to show your kids that little actions can be super impactful. If there are people who live nearby who are a little older, spend an hour or two raking their leaves or shoveling their snow (or even bringing up their trash cans after the garbage gets picked up).
Sponsor a child during the holidays.
This is a great way to embrace the spirit of the season. Sign up through an organization like Toys for Tots and "adopt" a kid for the holidays. You'll be able to pick out toys, books, and clothing to help make him or her feel special (and you'll also help your child appreciate their own presents and holiday traditions).
Organize a block clean-up day.
Picking up garbage can make a big difference in how your neighborhood looks. This activity is great to do with younger and older kids alike (even a four-year-old can grab pieces of paper and stuff them into a bag!). Your local neighborhood association might already have a clean-up day scheduled, but if not, see if you can get one on the calendar so that other families can participate as well. Have a nearby park you love to go to? Plan a clean-up day there, too!
Start off special days by helping the hungry.
Holidays and birthdays tend to be all about delicious food, so why not start a tradition where you spend a few hours feeding others at a soup kitchen on those days? If you have younger kids who might not be able to handle cooking or serving food, you can also spend the morning donating canned goods to a local food bank.
Send some love to seniors.
Four out of 10 residents in nursing homes say they feel a sense of loneliness. Make a small difference in their world by crafting cards and mailing them to people who don't get a lot of visitors (you can often call the nursing home and find out who would be best to send something to).