Fitness

Take a family hike!
Looking for a fun activity the whole family can do together before the weather turns cold? Try hiking — here's how to prepare.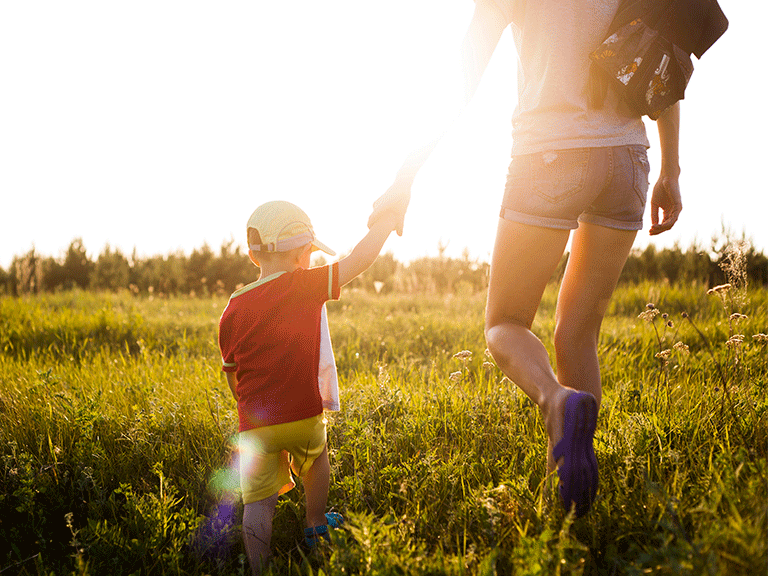 For an outing that combines family togetherness and fitness into one, nothing beats hitting the hiking trail. It's easy to find a trail option for any fitness level, and with the right preparation and supplies, families can feel safe and secure setting off down the dusty (or paved, your choice!) road. Here's how to get ready for your day of exploration.
1. Read the reviews.
Be sure to do some research online before heading out on the trails with your family. Plenty of websites offer first-person testimonials from people who have hiked the trails you're likely interested in, and they'll often state flat-out whether a specific one is good for families — and for families with kids of particular ages — or not. If you can print a trail map ahead of time, do so, even if the trail promises to be clearly marked.
2. Prep your family before the big day.
If your family isn't used to spending time in the great outdoors, try going on small walks in the days and weeks leading up to the hike, even if it's just around the neighborhood. For young kids, get them used to being in their carrier, and for kids who'll be walking by themselves, test out how long they can take a normal walk before the complaining begins. Gaining this knowledge ahead of time will help you plan your hike-day timeframe accordingly.
3. Bring provisions.
Every good hike starts with the properly packed backpack (or a few, to distribute the weight). Water is a must, along with hats and sunscreen, no matter the season. You might also consider extra snacks and bug spray, as well as a first-aid kit that's stocked with painkillers, bandages, antiseptic cream and gauze.
4. Plan for breaks.
Especially for young kids, it's best to plan for a hike that includes lots of breaks. If you've read up on the different trails in your area, you should be able to find one that offers plenty of places for a family to take a breather and sit for a water, snack and sunscreen reapplication break.
5. Know when to go.
No matter what season you go, you'll likely need to plan your family hike around the weather. In the summer that means avoiding the hottest parts of the day, and in the winter be sure to check before you leave for any impending snow or ice storms. Starting earlier in the day is probably a good idea to ensure you finish before the sun goes down, as well.
With just a little prep, taking a hike with your family can be a great way to get outside and exercise. Plus, who knows — hiking could become a tradition you'll keep up for many years to come.