Beauty

7 One-Minute Hairstyles That Will Make Mornings Easier
Find mornings totally insane? Try these super easy hairstyles to look like you had hours to get ready, not seconds.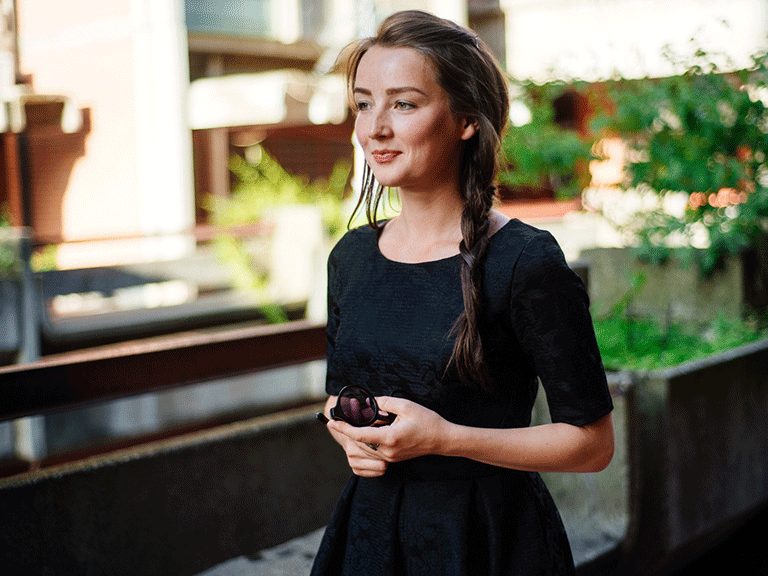 Imagine being able to wake up — on a school day! — without alarms, fully rested, and with plenty of time to eat breakfast, get ready, and maybe even crush a workout. You're probably LOLing right now. But that doesn't mean a hectic morning can't get a little calmer. Speed up your hair routine with these time-saving hair hacks (that you can do on you and your daughter) and you'll be able to put on your mascara at home instead of in the parking lot.
Fancy Messy Bun
Put your hair into a high, loose ponytail, and start to secure it using a hair tie. For the final loop of the hair tie, don't pull your hair all the way through, but leave the ends hanging in order to create a looped bun. Fan the bun to create a desirable shape, then wrap the ends around the hair tie to hide it and pin them in place. Pull a few wisps from around your hairline for that perfectly messy look.
Low Ponytail
Give your hair a deep side part, then draw it into a low ponytail at the nape of your neck. Put a bobby pin along one side for a subtle accent (and to keep your baby hairs in place). Trying this style on your kid? Use a neon bobby pin.
Pinned-Back Bangs
If you're working with next-day hair and you're suddenly out of dry shampoo, take a decent-size piece of hair from the front and pin it up away from your face. Add a little bump to the pinned-back piece for volume. This is particularly useful if you haven't had time for a bang trim.
Shaggy Front with a Low Bun
Part your hair in the center. Leave a few of your face-framing layers loose in the front, but take the rest of your hair and twist it into a low bun. You'll look elegant with basically no effort.
Mini Top-Knot
Instead of a normal half-up, half-down style, twist your half-up into a little top knot. If you have chunky bangs, this works especially well if you do this with two top knots.
Side Braid Secret
Keep your hair loose on top, then draw it over to one side of your neck. Do a traditional or fish tail braid starting from the nape of your neck down, then use a hair tie to secure the braid. If you feel like this makes your hair too loose, an easy fix: tie a low pony with a thin hair tie, braid, secure, then carefully cut the top hair tie out. Lightly pull apart the braid at either side for a more relaxed feel.
Throw on a Hat
Only have six seconds to spare and you last washed your hair four days ago? Grab a hat. You'll probably find other moms tipping their caps to your style.