Health
How My Kids Make Me Feel Better When I'm Sick

+

You may not get a parenting break, but they sure know how to make you smile.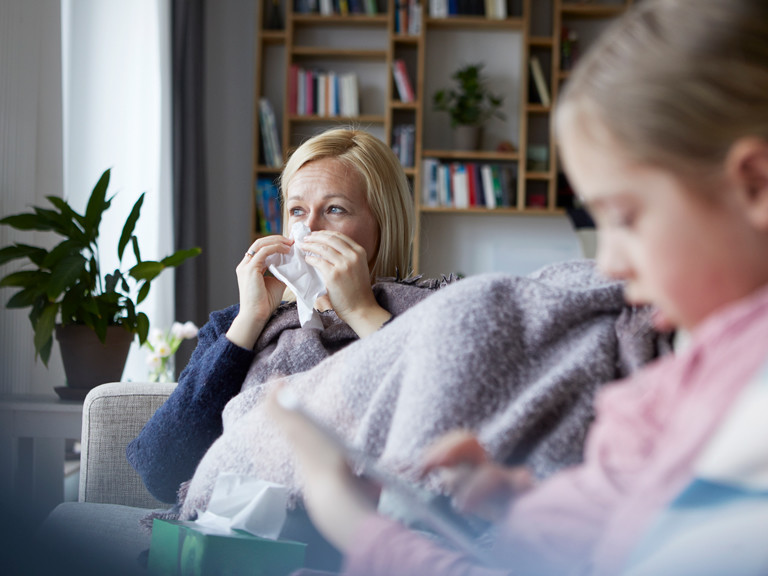 As healthy as we try to keep ourselves, colds and coughs are an inevitable part of life, especially with small children in the house. Of course, when you're the one who's come down with the sniffles, you can't leave those kids to fend for themselves. You still have to take care of others when what you really need is a little TLC of your own.
Sharzad Kiadeh, the blogger behind LuxLyfe, knows this all too well. With two very young boys, ages 4 and 2, Sharzad already has experienced multiple cycles of seasonal illness. "We've been hit with the cold season many, many times in the last few years," Sharzad says. "One of them's in daycare and the other one's in preschool, which means double the germs, double the snot, double the viruses, double everything! I never knew one could be sick this many times."
Her older son is experienced enough in the ways of life to know what it means when Mommy is sick, but her younger son doesn't quite understand what it means when she's on the couch in her pajamas holding a box of tissues. Sharzad makes an effort to first keep colds and coughs at bay as best she can (hello, frequent hand washing!).
After all, once you have little people to care for, "gone are the days of watching movies snuggled up on the couch until you feel better," she says. "There's no time to rest when I'm sick. It's absolute torture, to be honest, so I try to prevent it." But when illness does strike, Sharzad turns to her favorite medicine, Robitussin Honey Nighttime Cough DM, to help manage her symptoms. "When you're not feeling well, a good night's sleep is priceless," she says.
Her older son takes a page out of her book and is good about reminding her to take her medicine to feel better. Here's what else Sharzad and other moms say their kids do to help when the grown-ups get sick:
The Doctor Kiddos
Several parents we interviewed said that their young children love playing doctor. One little girl likes to "see if she can diagnose it." She also rubs Mom's stomach when her tummy hurts and pulls the covers over her feet to make sure they're covered. Two other moms have "doctors" at home who offer bandages as treatment no matter what ails their parents.
The Giver Kiddos
Sharzad's two boys like to dispense hugs when their mom doesn't feel her best (and isn't contagious). "Hugs, to me, are like gold. That's the greatest gift that I can ever get," she says. "My oldest is really good at giving hugs. My youngest does not hand those things out at all. Kisses and hugs are extremely challenging to get from him. He will spare a hug and a kiss for me if I'm not feeling well. That he will do."
One mom has a daughter in high school who brings in her favorite smoothies, and that same daughter, along with her older siblings, will take care of the younger ones while mom is recuperating. Other parents said that their kids will bring them blankets, water and tea, stuffed animals, and books.
The Independent Kiddos
When the kids get old enough to entertain themselves, parents tend to get a little more rest. A mom with daughters ages 8 and 5 says that her girls help by trying to be more independent. They get their own snacks and drinks and put fewer demands on their mom. "They try to be a little more quiet and patient," she says. "I'll hear them watching [musicals] to occupy themselves. I have some really good kiddos."
Sharzad has to wait a few years for that kind of independence from her kids, but they do manage to give her break from one thing when she's sick. "They take a break from wiping bodily fluids on me," she says. "It's just really nice."
Get more great health and wellness stories at Parents.com/Strive.