I Let My Daughter Pick Out My Clothes for a Week
Dressing my 3-year-old daughter every day is like taming a wild tiger: Hayden is a Disney princess who refuses to wear jeans (only dresses or sparkly leggings) or shirts that don't have ruffles, and runs away when I try to brush her curly hair. So imagine her delight when I told her that, in the name of storytelling, the tables would turn and she would get to dress me for a week. Let's just say, I'm still picking glitter out of my hair.
Day 1: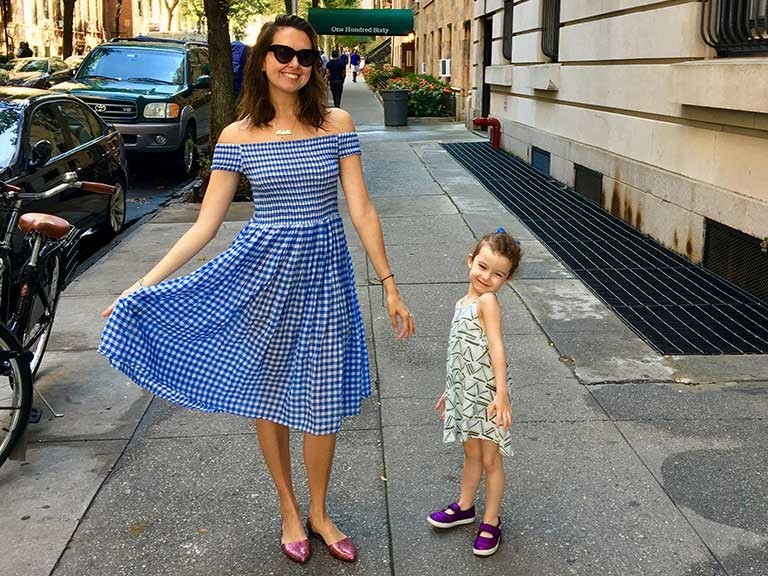 "Let me see," Hayden said, giggling masochistically in front of my closet, drunk on the power of getting to boss me around for once. I knew I was in for it. If an old prom dress was hiding in my closet somewhere, she'd find it. But when she reached for a blue gingham J.Crew dress I'd bought over the summer, I breathed a sigh of relief…until she paired it with a pair of glittery pink Jeffrey Campbell jellies. I'd bought them a few years ago because I love glitter myself (maybe it's hereditary?) but the combo looked like I was wearing a Dorothy Halloween costume. Nevertheless, while we walked to lunch, a lady on the street told me I looked "lovely." Score one for Hayden.
Day 2: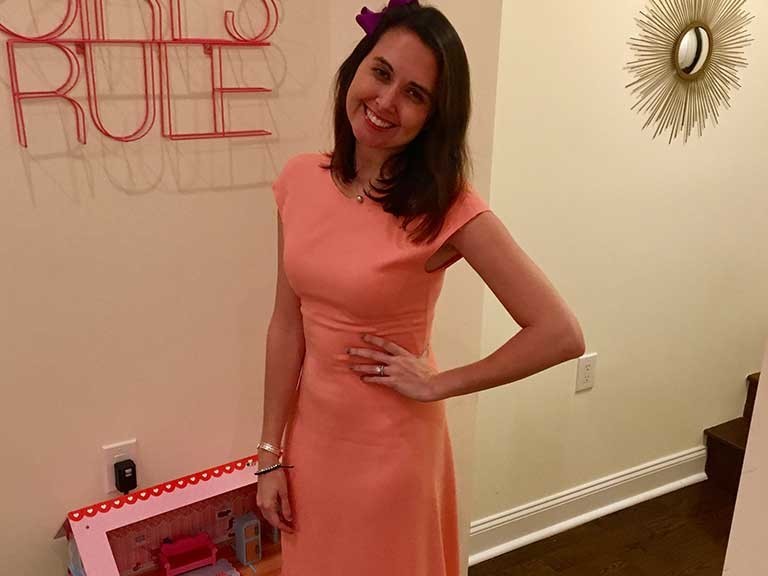 "How about this one?" Hayden was standing in my closet, eyes glimmering, pointing to a pink mid-length dress from Zara I wore to a friend's wedding three years ago, a few months after she was born. I cringed. Though I'd somehow fit into it then, putting it on now revealed that after three years and another baby (her little brother), the midsection was mighty tight and uncomfortably see-though. Asked why she chose it, she said, "Because it's beautiful and you never wear it." I couldn't argue with that.
For accessories, she chose the highest heels in my shoe rack—a pop-art flowery Jessica Simpson pair I happened to fall in love with at DSW, and the same giant purple bow I regularly force into her ponytail. I looked like a little girl playing dress-up in her mom's clothes. But Hayden gazed up at me in awe and said: "You look as beautiful as Snow White." Though it would not be an ideal outfit for picking up two small children from daycare, or even walking more than a few steps, this sentiment was so sweet that I obeyed her wishes and, unlike her, didn't run away.
Day 3: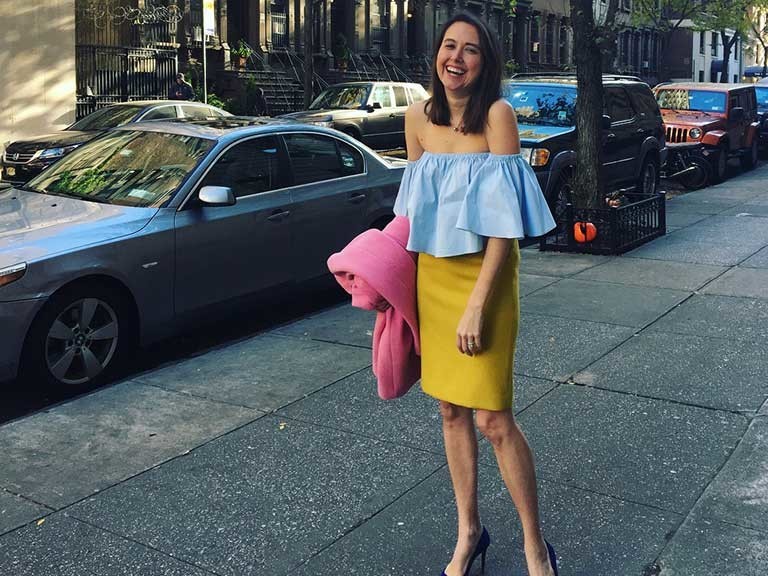 Hayden was practically shoving me into my closet, glee-filled at the prospect of lording her outfit choices over me. Despite it being an unseasonably cold day outside, she stayed true to her sartorial senses and chose an off-the-shoulder ruffled crop top (again from Zara), a mustard pencil skirt from J.Crew that I've had for ages and never wear, and a pair of blue suede heels I got in Paris years ago. She approved of my throwing on a new pink coat from J.Crew to brave the chilly weather.
As a freelance writer who typically wears jeans, sweaters, and Stan Smiths every day, I have to admit I felt pretty fabulous in this outfit! Hayden's color choices sort of came together like colorblocking. And when I posted a pic of myself to Facebook, a magazine-editor friend said Hayden has a future in fashion. Who knew?
Day 4: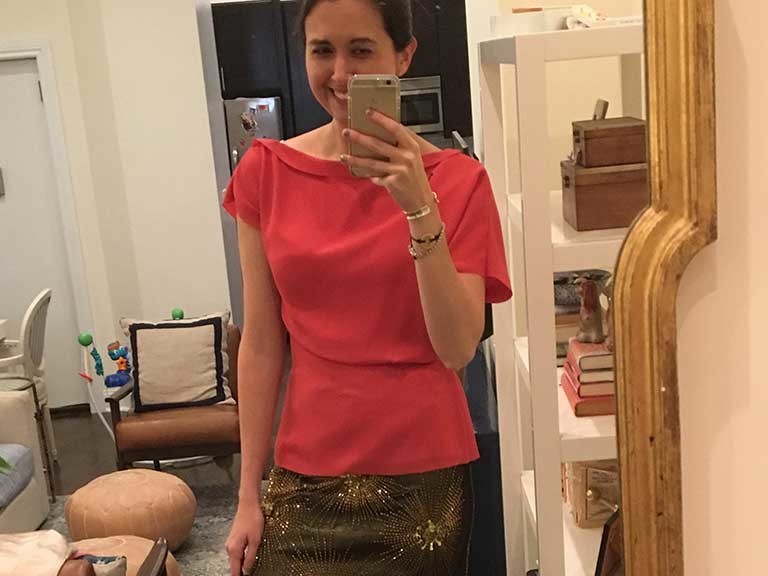 By the fourth day, my feet were aching and the prospect of wearing another super-girly, semi-retired piece of my wardrobe was killer. Alas, Hayden is relentless in her pursuit of fabulous dressing. Today she went for a pink (of course) blouse from Reiss, a gold sequin Vivienne Tam skirt, and a pair of sparkly, mesh silver heels (lucky for me, kitten heels). I'd worn the skirt exactly once in my life—to cover the 2016 Tony Awards. Funny enough, a sequin skirt and glittery heels would be way more appropriate on the Broadway stage than writing at my desk all day. But in Hayden's mind, this is casualwear.
Day 5: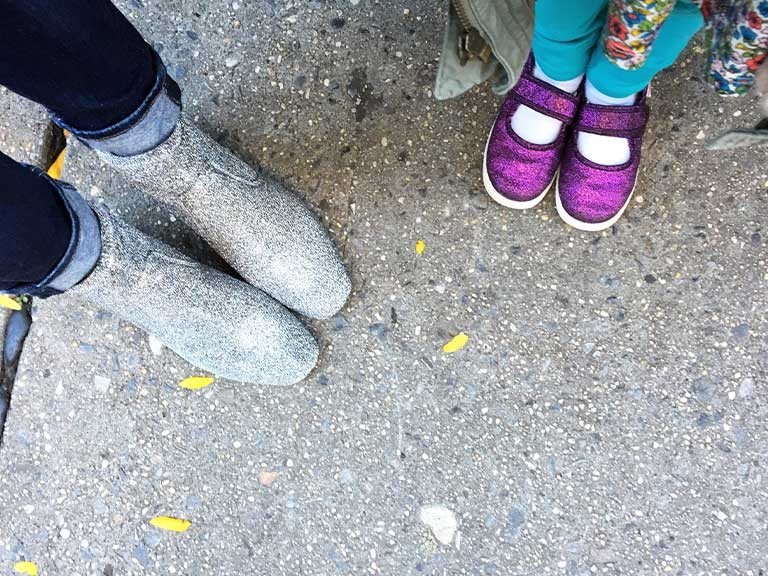 I tried to get clever with Hayden on the final day of our experiment, suggesting my favorite jeans, a stripy button-down, and my go-to black Everlane loafers. "No," she declared. "You have to wear these," and picked up a new pair of silver, sparkly sock boots from Nine West. In fact, I love these boots and had been dying to wear them, but hadn't quite had the gumption yet. So, we compromised—I put the boots on over my jeans, and on the way out the door, we realized we matched: She was wearing sparkly purple sneakers. It called for a foot-kiss.
At the end of my week with Hayden as my stylist, I have to admit I was a little sad. Wearing heels and ladylike pencil skirts reminded me of my days as a magazine editor and made me feel kind of fantastic again. She'd also reminded me that I have some pretty fun stuff in my closet, if I could look beyond the jean pile. But most of all, I realized that even as I rolled my eyes at all of her sparkly choices, I owned them, after all! We shared a love not only of ballet and princesses, but sparkles, sequins, and glitter, all of which makes life, and getting dressed, pretty fun.
Find more great health and wellness stories at Parents.com/Strive.