Beauty
Six Makeup Tricks That Help You Look More Awake

+

Sleep is in short supply for most, and it's even scarcer if you're caring for a newborn, a toddler, or, really, a child of any age. (After all, you'll never know if your kid made curfew if you're asleep.) You're not alone if you dream of eight hours of uninterrupted sleep—or would dream, were you to get far enough into your REM cycle to do so. One of the worst parts of poor sleep is that it shows on your face, basically announcing to the world that you're seriously exhausted. Here's the good news: With the right makeup tricks, you can look as though you got a good night's rest. And for everything else, there's coffee.
Color-Correct Under-Eye Circles
Color-correcting products are like makeup magic. They harness the principles of the color wheel to neutralize undesirable tones in skin. Since yellow lies opposite purple on the color wheel, look for a yellow-toned color-corrector to counter the blue-red tones in under-eye shadows. Because it works to cancel out dark circles visually and not just by covering it up, you need less of it than if you'd just used concealer. That way, your makeup looks fresher—and you, more refreshed. Try Bobbi Brown Under Eye Corrector ($27), which comes in more than 15 shades.
Line Your Eyes with Nude Liner
Red, bloodshot eyes are a hallmark of a poor night's sleep. Instead of opting for eye drops, get strategic with your eye makeup. A nude-colored eyeliner acts like concealer for any redness and can brighten the eye area. Try Tarte Fake Awake Eye Highlight ($20).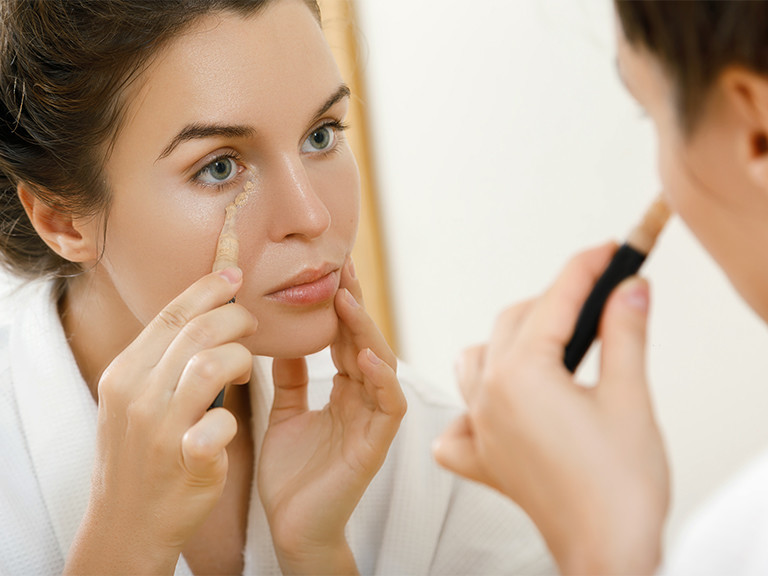 Apply Under-Eye Concealer in a Triangle Shape
Concealer is one of the easiest ways to mask tired-looking eyes. While applying directly to the under-eye seems like the obvious fix, it actually draws more attention to your dark circles. Instead, apply concealer in an inverted triangular shape to brighten up your entire face. Draw the baseline underneath your eye, extending the tip to the top of your cheekbones. Try Nars Radiant Creamy Concealer ($30).

Use a Brightening Primer
Some primers do more than extend the lifespan of your makeup (although that in itself is a pretty good perk). Brightening formulas often contain reflective particles, which—you guessed it—reflect light, giving your skin subtle radiance. Try Benefit 'That Gal' Brightening Primer ($29).
Sweep on Bright Blush
So maybe you didn't actually make it to the gym. No big deal: You can still score a convincing, just-did-a-casual-5K flush with a sweep of rosy blush on the apples of your cheeks. Look for a cream formula, which is easier to blend, and gives that healthy, lit-from-within warmth to your skin. Try Stila Convertible Color ($23).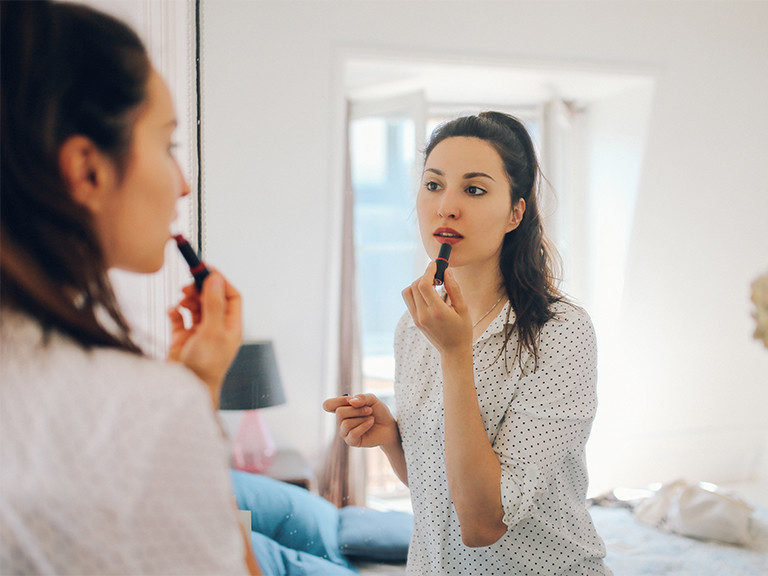 Wear Lipstick
A swipe of color on your lips is an easy way to brighten your face. Go for a soft pink color or (if you're feeling adventurous) a bright red or coral will do the trick. Try MAC Creamsheen Lipstick ($19).