Health
How to Make Working from Home Feel Cozy, Not Cramped

+

If you're going to be working in the same place you live, you might as well make it the perfect sanctuary.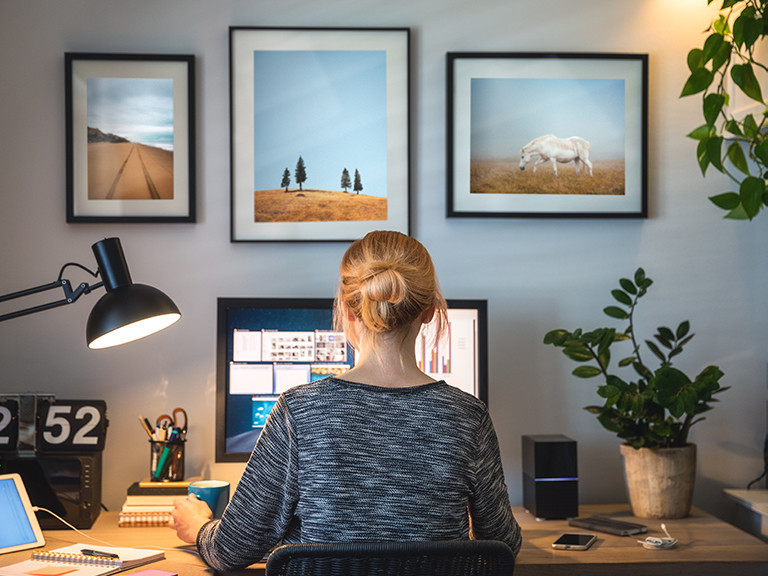 Working from home can bring its fair share of challenges: How do you stay focused when you're in a meeting and your kids are demanding your attention? How do you feel professional when you're wearing the same yoga pants for three days in a row? How do you create a space that lets you feel both productive and comfortable? That last one is actually easier than you think. Whether you have a separate room that you use as a home office or end up working most days at your kitchen table right next to your little ones, these little tricks will help you create the ideal environment.
Put a Plant Nearby
Here's a new reason to put some greenery near your desk: it can help you feel calm. Researchers in Japan performed a small study where they had workers take a three-minute break with and without a plant on their desk. When there was something leafy to look at, the employees experienced a bigger drop in pulse rate (a way of measuring stress). One thing to keep in mind: Don't get a high maintenance plant that's going to take a lot of energy to keep alive. Both jade and spider plants are easy-to-care-for varieties.
Add a Soft Desk Lamp
Natural light is always nice; In fact, a small study examined the impact of daylight exposure on 27 workers and found that those who worked near a window, reported a higher level of well-being and sleep quality. But it's not always possible for your desk area to come with a view. That's where the perfect desk lamp comes in. As opposed to harsher overhead lights, it can shine exactly where you need it to and add a lovely glow to the room (something you'll appreciate during the shorter days of winter).
Invest in an Office Chair
Sitting all day in a chair that doesn't support your lower back can be a pain in the, well, lower back. That's why it's not a great idea to just use whatever chair you happen to have around the house (like a dining chair or your sofa). Instead, get an ergonomic office chair to help keep your back slightly arched, helping you avoid the aches and pains that come with hunched shoulders and a not-supported lower back.
Keep Essentials on Hand
Chances are, when you worked in an office, you had a drawer full of all the little necessities you might want during the day. Do the same thing for your home office by filling a little zippered pouch with things like pain relievers, antacids, and a cough medicine like Robitussin Extended-Release 12 Hour Cough Relief. This way, you can grab whatever you need without breaking your concentration to go digging through your medicine cabinet.
Set Up a Space Divider
It's important to keep a balance between work and play, but that can be hard to do when your home is also your office. If you don't have a dedicated room with a door, try getting a screen and placing it in between your office area and the rest of your living space. Not only will it help you stay focused on the job, but it can also act as a sign for your kids to know not to interrupt while you're working.
Add a Personal Touch
Don't forget to add one or two little touches that bring a smile to your face. Maybe it's a picture from last year's family trip to the Grand Canyon, or a candle in your favorite scent. These kinds of additions can make even the most stressful work-at-home day a little easier to get through.