Health
4 Tips to Make Sure Your Kids Go to Bed at Bedtime

+

Help bedtime truly mean sleeptime.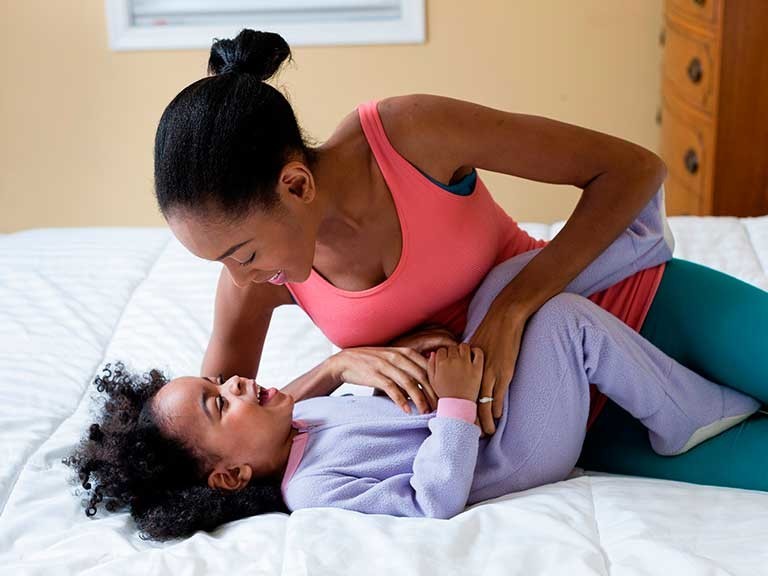 When it comes to putting kids to sleep, it's seems like there's always something—first, they don't sleep through the night at all. Then, they don't want to sleep in a big-kids' bed and are prone to middle-of-the-night escape artistry. Next, they want to read approximately 927 books before lights out. (And someday, heaven forbid, they'll want to burn the midnight oil texting their friends.) Here, the solutions to some common bedtime blunders.
Problem: Bedtime is a circus that has gone off the rails.
Solution: No matter the issue, consistency is key: According to a study by the Asia Pacific Pediatric Sleep Alliance, children tend to sleep better when they have regular nighttime routines. Establish your child's routine and stick to it (maybe it's bath time, story time—with no more than two books—and lights out).
Problem: Kids go to bed—but refuse to stay in bed, escaping before sunrise to pay their sleepy parents a visit.
Solution: Many moms and dads swear by special color-change, no-time-telling-skills-needed clocks, which can be set to turn green when it's okay for kids to get out of bed. As a bonus, they double as a glowing nightlight for those kids who are afraid of monsters.
Problem: Kids are always—spontaneously—hungry at bedtime.
Solution: This is a common conundrum for parents: Is my child hungry or just attempting to stall the bedtime process? Err on the safe side and give them a small bedtime snack that's high in protein and fat to tide them over until morning, like a piece of whole-grain toast with nut butter.
Problem: Coughing is keeping them up.
Solution: According to a self-reported study in the multidisciplinary journal PLOS One, 25 percent of kids suffer from nighttime coughing. Children's Robitussin Extended Release designed to control and relieve coughs in kids over age 4 for up to 12 hours, so everyone—parents and kids—can get a good night's sleep.