Health
5 Tips to Keep in Mind When Negotiating Maternity Leave

+

Keep this advice in mind.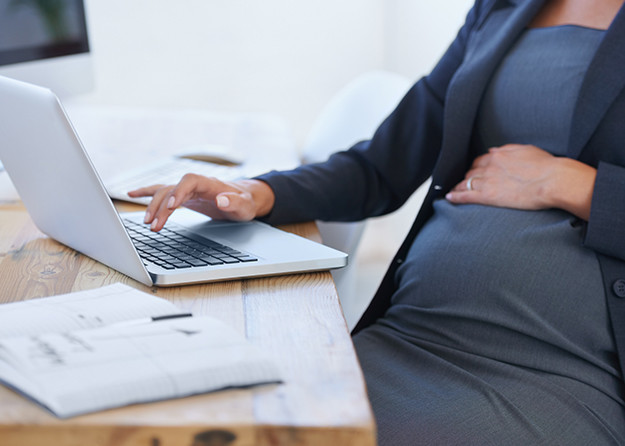 There is no nationwide standard for maternity leave in the United States, which means when we talk about it, we're often talking about a period of time, paid or unpaid, that's been cobbled together from a combination of federal, state, and company policies. The Family and Medical Leave Act (FMLA), for example, will grant you 12 weeks of unpaid leave — if you work for a company with 50 employees or more and if you've been at that company for at least a year. Maternity disability can generally get you six paid or partially paid weeks (again, with certain requirements attached to qualify) — but you can't collect it in addition to any coverage awarded under FMLA. (Take six weeks of disability and you'll get only six weeks under FMLA.)
Some companies offer paid leave as part of their internal policy, but unfortunately, many women aren't so lucky to work for those companies. Bottom line: the current system is maddeningly inadequate. But because of its amorphous nature, you may have some room to negotiate with your employer. Here, five tips from women who've done it.
1. Think Carefully About What You Want
Randi Braun was a senior account manager in sales when she found out she was pregnant with her first child. Her company offered 12 weeks paid leave, but she knew she wanted more time at home with her baby on top of that, and decided to ask for an additional six weeks of unpaid leave. Karina H., an engineer, was more concerned about maintaining her income, given that she was the primary breadwinner of her family and her company did not, at that point, offer paid maternity leave. (The company has since instated a 12-week paid leave policy.) Her desired plan was to take six weeks disability, followed by one week of vacation, followed by an extended rollout of the remaining weeks she was allowed under FMLA. In other words, rather than take the balance of her time in one chunk, she wanted to work part-time for roughly double that. "It was better for my family because it brought my income back earlier, even though it was reduced (it was prorated to the number of days I was working)." Before you go in to negotiate, sit down to think about exactly what you're asking for, similar to how you would with a salary.
2. Present a Clear, Solutions-Oriented Plan
Karina remembers distributing packets of information to her management team about when she would leave, when she would return, and who would handle her clients in the meantime. "I showed up with calendars that showed exactly when the transition would happen and which days I'd be there and not," she says. "I was trying to show that I was really following the rules — it all added up to exactly 12 weeks, I wasn't trying to sneak anything by anyone, I'd put some thought into it."
Braun told her manager she was expecting when she was 11 weeks along, about two weeks earlier than she had planned to, because she'd been offered the opportunity to lead a new company initiative — and she wanted to accept it with all the information on the table. "I went in that next week and told her, 'I'm really excited about this opportunity. I want to and I plan to accept. I want you to know I'm expecting,'" Braun remembers saying. Then she laid out a clear plan of action: "Instead of launching four months from now at the end of the second quarter, can we pull forward the launch and start this new initiative three months early? That way I can get some runway under me in the role," she recalls saying. From there, she began negotiating her additional time off. "I put together a proposal where I said, 'It's my suggestion that so-and-so cover these things. Beyond that, I will work with you to make a written plan before I go out on leave.'" If you're asking for more leave, it will be a lot easier for your managers to make a decision if you've already showed them how they can handle it.
3. Don't Apologize for Asking
"I think women too often apologize, and they really miss an opportunity to lead with confidence," Braun says. (As a side gig, she runs a coaching business called Something Major Coaching.) "I was not apologetic. This is a business transaction." She recommends using direct language — I propose and I suggest, for example, rather than I'm hoping. "That brings a level of credibility, of gravitas to the conversation," Braun says, "and really allows you to work collaboratively with your manager and HR team. You want to make sure that you're operating from a place of equal power, to the extent possible. Don't be overly deferential."
4. Explain Why the Plan Is Good for the Company
You have every right to start a family and take maternity leave, but see the conversation from your employer's side, too — they're panicking that they're about to lose you for a quarter of the year — and reassure them that your plan is the best one for the business. Karina works with clients, so she stressed to her management team that her returning to work earlier, albeit in a reduced capacity, was good for business. "It was a win-win across the board," she says. "It wasn't just lip service. I was trying to legitimately show that this job and this company are really important to me, and I'm still really engaged even though I'm taking some time for a different activity."
Braun also suggests thinking about how your maternity leave can be presented as an opportunity to uplift other staffers. "As you're making your maternity leave plan, think about who are some of the more junior but really high-potential people on your team for whom this can be an opportunity to shine," she says. Get your manager excited by the prospect of building a more committed and motivated department.
5. Put Everything in Writing
Just as you might end a cover letter by setting your intention to follow up, you should end your initial maternity leave conversations by stating plans to check back in. After Braun's manager said she needed to discuss the proposal with HR, for example, Braun teed up next steps. "I said, 'Okay, that sounds great. May I suggest that we set up some time to speak about this again in a few weeks? And in the interim, I'll send you over an email with my proposal.'" Four weeks later, once she got verbal confirmation that her plan had been approved, she put that in writing too. "The Holy Grail is making sure you get something in writing from your HR team or your direct director," she says.
So, what would Braun have done if she'd gotten a no? "To be completely honest, I probably was going to come back," Braun says. "But I wasn't going to be completely engaged as an employee. And so what ended up happening instead was, because I got to take six extra weeks, because I got basically five months at home, I felt I came back the best version possible of myself. I wasn't sleep training through the night and then conference calling during the day. I felt like that extra time actually made me a better employee."
Get more great health and wellness stories at Parents.com/Strive.