Beauty
How to Master the 'No-Makeup' Makeup Look

+

Adopt a less-is-more approach to makeup by following these tips.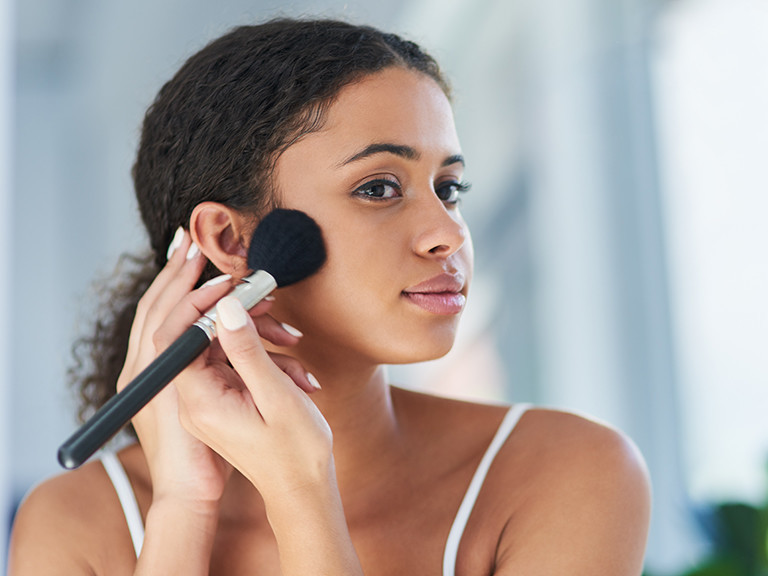 Between running after the kids, getting the household in order, and working a 9-to-5 job, who has the time to even think about putting on a full face of makeup? But on days when you actually want to add a little something, this no makeup look may come in handy. It saves time, requires very little products, and it's all about enhancing your natural features. From developing a proper skincare routine to prioritizing products for peak performance, read on for a professional makeup artist's guide this effortless, no makeup look.
1. Start with a Clean, Fresh Face
A good skincare routine can help set the stage for your makeup, especially when going for a more subtle look. "Your products will blend more easily and appear more natural when applied over a smooth, healthy surface," Suzy Gerstein, a New York-based celebrity makeup artist, explains. Bonus? You can typically get away with using less makeup when you maintain a regular skincare routine.
To keep skin in optimal condition, Gerstein suggests washing with a gentle cleanser one to two times per day, followed by toner, serum, and moisturizer, based on your individual skin type and needs (And don't forget the SPF in the morning!). She also recommends swapping your regular cleanser for an exfoliating one at least twice a week.
Your morning routine is also a good opportunity to sneak in a quick pre-makeup facial massage to help reduce any puffiness you may have, adds Gerstein. "Using an upward-outward motion, I like to use my fingers or a tool (such as a rose quartz roller) to lightly work in moisturizer to help boost circulation."  
2. Use Foundation and Concealer Sparingly 
Most people who have good skincare habits should be able to skip primer or use a moisturizer instead, says Gerstein. And when it comes to foundation and concealer, she cautions that less is more. "To achieve the appearance of a second, better skin, you'll want to leave as much transparency as possible and cover only where necessary," she explains. Using a tinted moisturizer or flexible coverage foundation, apply a thin veil with your fingers, a fluffy brush, or a damp makeup sponge. Then, you'll want to go back in with a medium-to-full coverage concealer and spot-cover areas that typically need more coverage, like around the nostrils, on the chin, and the center of the face, Gerstein explains.
Wipe off any excess product on your nose with a makeup wipe, clean brush, or sponge, and then blot your face with tissue to help control oil and shine. "Sweep a light finishing powder (loose or pressed works) along the center of the face with a small, fluffy brush, sparing the center of the nose and apples of the cheeks to keep that fresh glow you achieved with your skincare," Gerstein says. "I also like to apply a spritz of refreshing mist to help 'wake up' the skin." 
3. Enhance Your Natural Features
To finish off your look, focus on products that will help accentuate your assets, such as a mascara to make your eyes look bigger or an eyebrow pencil on your brows to frame your face, Gerstein suggests. Tie it all together with a pop of blush to the cheeks and forehead, and use a tinted balm, like ChapStick Moisture + Tint SPF 15, for the lips.
4. Apply Natural Sunlight
Once completed, Gerstein recommends checking out your 'no-makeup' makeup from different angles in front of a mirror, ideally near a window with direct sunlight. "If it looks natural in broad daylight, you're good to go," she says.