Time spent with family on the road offers plenty of learning opportunities. Here, writer Jessica Meinhofer of Exploring the Local Life details lessons she's learned while RVing with her husband, kids, and mother-in-law. We partnered with Go RVing to bring this story to life.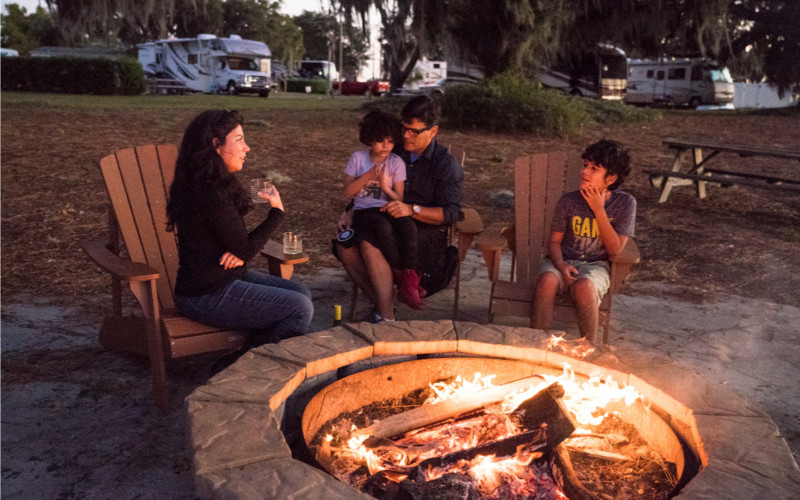 Do you remember what you were doing on October 9, 2015? Most people wouldn't immediately recall that date, but for us, it was the day that we took our first RV trip. At the time, we had no idea what we were doing; all we knew was that we were a Latino family of four heading to the Georgia mountains for several months. Since then, my family and I have spent a ton of our time on the road, traveling all over the country, sometimes joined by my mother-in-law. We've learned a lot over the years about who we are and, of course, about the RV lifestyle. Today, I'm sharing some of the lessons I've learned.
Practical Necessities Sneak Up on You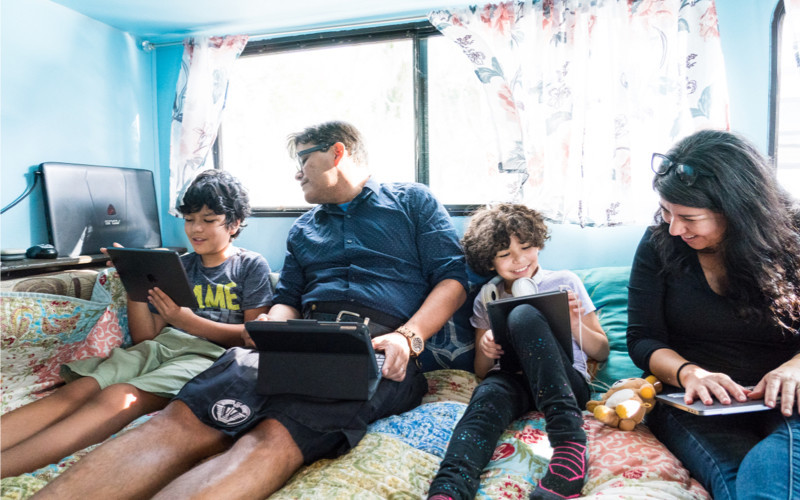 Scour the internet and you will find tons of RV must-have lists. Even if you follow those lists, you still might find yourself heading to the store on that first trip. I know I did. For example, our RV didn't come with a toilet-paper holder. Ultimately, this ended up being good luck, because it allowed us to mount our own holder on the wall where our small children could reach it. One less thing to put away on driving day!
We realized we could maximize kitchen space if each family member had one tableware item: We had four large plates, four small plates, and four bowls, and everyone used reusable water bottles. When my mother-in-law joined us during our week-long trip to Fort De Soto, a fantastic Florida county park, she used one of our smallest child's regular-size plates.
An outdoor rug was a sleeper hit; besides preventing extra dirt from coming inside, it made an excellent play and hangout area for the entire family. If you're thinking of embarking on your own RV journey, this is one item you won't see on many lists.
Researching RV Parks Beforehand Is Important; a Positive Attitude Is Crucial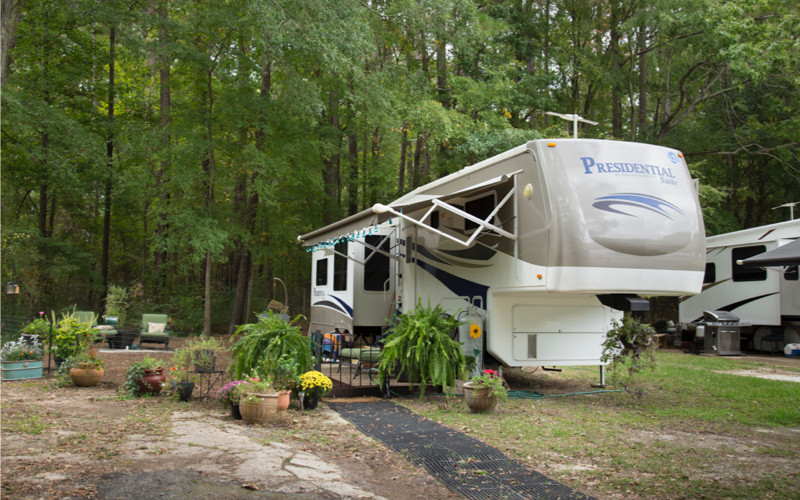 To set ourselves up for a prime spot, we learned to use the RV park-provided map and corroborate it with online customer reviews and imagery from third-party websites. We always checked to see if there were railroad tracks or an interstate along the park perimeter, whether there were trees, and if there was a picturesque view; in our experience, every RV park and campground has a great view somewhere. However, not every campsite comes with that amazing view, so call the park to ask specific questions: How big are the sites? What do they overlook? Is there a code to enter and exit? Of course, you might not be guaranteed a specific campsite, but you'll never regret being overprepared.
After booking our site, we tried to stay flexible. Things would sometimes change, not only for us, but also for the campground we were visiting. Before arrival, we would make up our minds to enjoy ourselves no matter what, guaranteeing we'd have a great time even if the view eluded us.
The RV Community Is Exceptionally Warm and Welcoming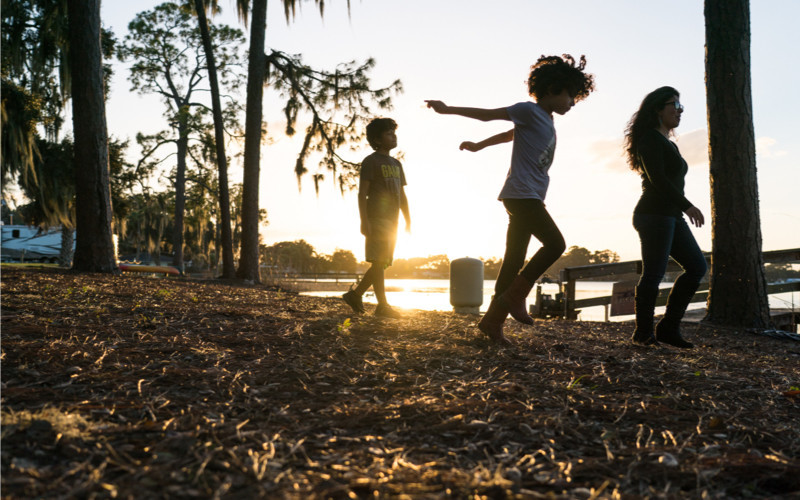 We really weren't sure what to expect on that first trip, but a lesson we quickly learned is that the RV community as a whole is kind and helpful. This is not to say that every RVer we've met has been nice, but overall, we had a wonderful experience, making friends in nearly every state and campground we visited. During that first RV trip to Georgia, the family next door came over and shared craft supplies with our children. The kids from both families had a great time together! The impromptu play session reminded us of our neighborhood's homeschooling co-op. This sweet gesture was just one example of how we were welcomed by the RV community. We also loved to stumble upon diverse RV parks, typically those outside of cities with a variety of populations. It was a beautiful thing to see and hear such a mix of people from various backgrounds.
Creativity Is Key When It Comes to Romance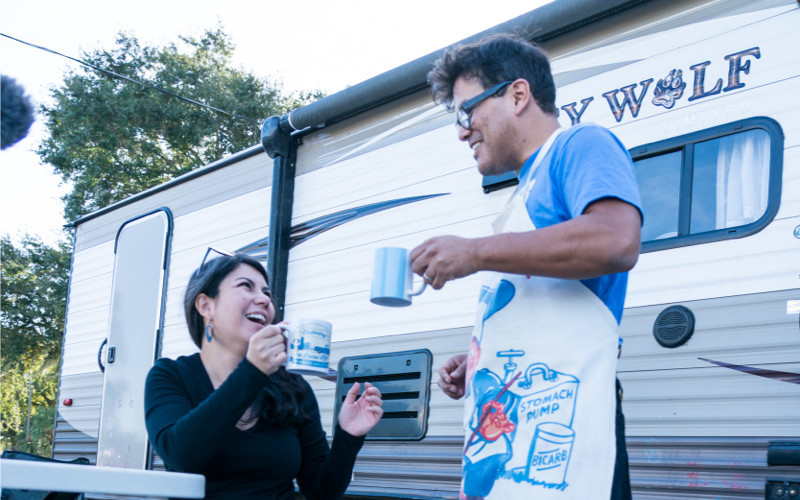 Whenever our parents met us on the road, they would watch the kids so my husband and I could get away for "date night" on occasion. Sometimes we'd head out for dinner or an outing beyond the campground. When we didn't have our parents babysitting, we'd enjoy each other's company by the campfire, listening to music and sipping wine. As the kids grew older, we added nightly campground walks to date night.
Flexible Budget-Friendly Kid Activities Make the Experience All the Richer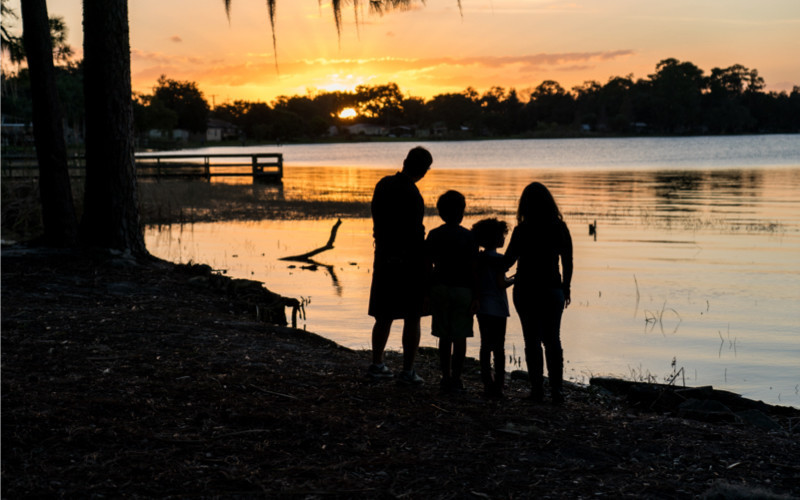 There are boundless kid-friendly activities available on any RV trip. We sought out (free and low-cost) nature centers, historic downtowns, hiking trails, and museums. To save money on museum visits, we purchased a family membership that allowed us to visit museums nationwide without paying additional fees. If all else fails, it certainly pays off to choose campgrounds with internet access—the kids always had laptops and tablets to meet their needs in case other activities fell through. On days when nothing went right, we learned that sometimes you just have to settle for video games and eat some ice cream.
To start planning your RV journey, click here.