When I was growing up, Easter—and the week leading up to it, known in Latino homes as Semana Santa—was a pretty big deal in my house. My mom brought us to church on Holy Thursday, Good Friday, and Easter Sunday. But Easter Sunday was the best: Mom would dress us up in fancy clothes, our extended family would come over, we'd enjoy dinner together, and there'd always be Easter baskets filled to the brim with goodies waiting for me and my brother—even though Mom didn't grow up receiving them from her own parents. She told me it wasn't a tradition in the Dominican Republic, but she wanted to fuse our American and Latino cultures.
When I became a mom, I knew I wanted to pass along some of the American Latino Easter traditions I'd participated in my whole life, especially by re-creating the beloved gift-filled baskets for my children. Here's how I combine two cultures in my kids' Easter baskets.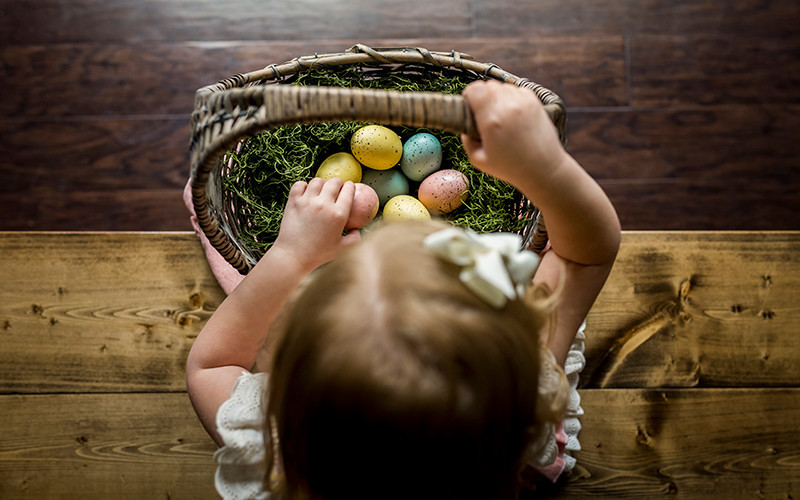 The Basket
I start with simple, colorful chipwood baskets. This year, for my daughter, I'm giving a basket in a basket with the Hatchimals CollEGGtibles Spring Basket from Target (she'll love "hatching" and tending to the tiny animal characters). Before placing gifts inside, I fill the baskets with colorful fake grass—not only is it pretty, but it gives the kids something to dig through in search of more gifts, making the basket its own little hunting ground.
Books
Each year I add at least one book to the basket for each of my kids. When they were younger, I'd include a bilingual book that we could use to help them work on their Spanish. This is something that was always very important to my parents and my grandparents, and I continue to keep the language alive in my own little family.
Candy
My favorite treat in the basket was always the candy—and my kids take after me. As a busy mom, I love that Target is a one-stop shop for everything I need to fill their baskets with sweets beloved by both cultures. My American go-to's are Starburst Easter Jelly Bean-Filled Eggs, a classic Hershey's Milk Chocolate Easter Bunny, and an M&M's Milk Chocolate Easter Cane. Favorite Latino picks are Vero Mango Chili Lollipops and Tamarind Hard Candies.
Toys
Next to the candy, my kids are crazy for stuffed animals, games, and figurines. I always include an adorable plush animal (something Easter-specific, like a bunny or baby chick), but I also embrace our Latino roots by including some cascarones, hollowed-out chicken eggs filled with confetti and small toys. My kids love to crack them open on each other's head—it's traditional in Latino culture to make a wish the moment one breaks.
Movies
One thing I loved most about my mom's Easter baskets were the DVD movies she'd surprise us with, so I do the same for my children. I always pick a film I know we'll all enjoy, so we can watch together and bond as a family.
Find everything you need to build your own unique Easter baskets at Target.