The Importance of Messy Play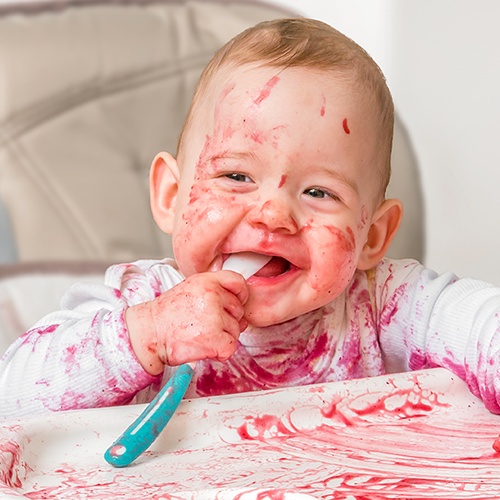 Messy play is more than just a ton of fun—it gives babies important information about the world around them. See why you should get ready to make a mess.
Life with babies can get pretty messy—whether you want it to or not. (Hello, overturned bowl of spaghetti!) But encouraging messy play is important for you and your baby. "Parents should keep in mind that getting messy can help their little one with learning and development," says Dr. Dyan Hes, Medical Director of Gramercy Pediatrics. Here's why messy play is so key to helping your baby grow.
It encourages your baby to try new foods. Placing some pureed baby food (you can stock up on colorful, nutritious options at Target stores) on your baby's high chair and letting those little hands go to work may be the key to getting a fussy eater to explore new flavors. "It's a great way to introduce purees or soft foods without it being a fight," Dr. Hes says. "It will happen naturally."
It's a great way to start teaching basic concepts. "You can use messy play to teach children colors, sizes, big vs. little, empty vs. full, or wet vs. dry," says Dr. Hes. Little ones will experience these concepts—and more—first hand when they get a chance to dig their hands in and explore.
Messy play encourages creativity. Giving your kids different colors and types of materials gives them a head start on learning the building blocks of art and creativity. "With messy play, they learn pre-art skills, like moving sweet potatoes around on a tray to make a swirl," Dr. Hes says. "They learn to use both hands for an activity. The bright colors and sensations can make them happy."
You're building great motor skills. When babies swirl, smash, and splash away, they're actually improving their ability to control the muscles in their hands. And that's key to getting ready for controlling spoons, crayons, and pencils in the not-so-distant future. Still…we don't blame you if you're worried about the mess. "The best thing for parents to remember is that with Dreft, parents can stop worrying about the messes and enjoy all the beautiful and memorable moments they have to share with their little ones," Dr. Hes says. "Parents of messy babies can rely on Dreft Active Baby detergent to help remove 99 percent of baby food stains and other outdoor messes." So go ahead: Pick up a bottle of Dreft at your nearest Target store, and do everything you can to bring out baby's messy side!