Host a Spooky Slumber Party on Halloween
Keep the fun going after trick-or-treating is done by letting the gang spend the night. Ghost stories are a given, but here are some fresh ideas to make any Halloween sleepover memorable.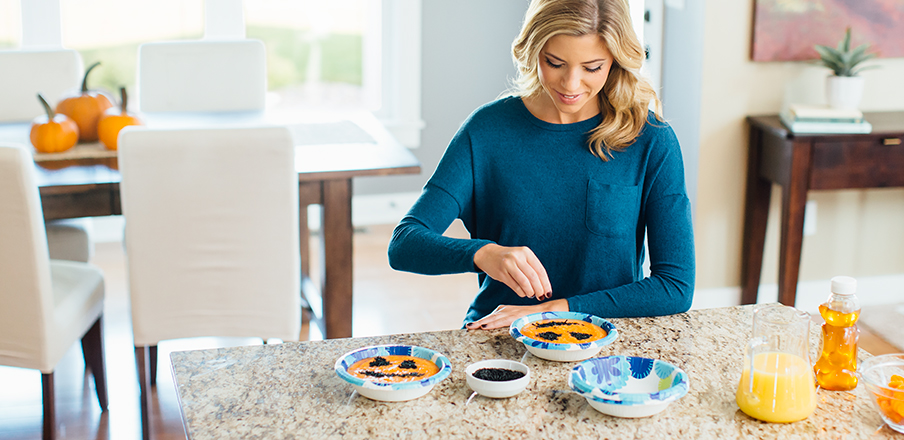 Smoothie Bowl Midnight Snack
Set up: Assemble ingredients for a festive orange smoothie bowl: Blend frozen bananas, orange juice, a carrot, and a spoonful of honey to create a pumpkin-colored concoction. Pour into a bowl, then add chocolate sprinkles on top for jack-o-lantern eyes, nose and mouth. Want to make it spookier? Drizzle vanilla yogurt on top to create spider webs and decorate with gummy spiders.
What to do: Let kids make their own Halloween smoothie bowls for a fun and creative party snack.
Monster Make Up Contest
Set up: Gather two Halloween make up kits, two headbands, fresh sponges, and baby wipes. Have two devices with YouTube tutorials for different Halloween looks ready to go.
What to do: Divide the group into two teams. One person from each group will be the model, the others can be the artists. Give them 30 minutes to watch the tutorial and recreate the looks. Take pictures of the work in progress and finished product. Let an impartial friend or family member judge.
Gnarly Nails
Set up: Get nail polish in Halloween colors like black, orange, or blood red. Have nail polish remover, cotton balls, and paper plates handy (which make a tidy, disposable work surface).
What to do: Let kids try creative nail art in a spill-safe area.
Spooky Slime
Set up: Get all the ingredients for their favorite DIY slime recipe plus Halloween extras like glitter and plastic spiders. Clear off the kitchen table and put out large bowls, spoons and rubber gloves.
What to do: Let kids do the mixing and have fun!
Halloween Dance Party
Set up: Let kids make a playlist in advance. Pull back the furniture and clear out a space to dance.
What to do: Turn on the music and let the kids do the rest. (Embarrassing parent dancing is optional.) Offer Halloween games for kids who may feel too shy to boogie.
Donut Eating Challenge
Set up: In the morning, run a string between two trees or across the ceiling. Pass a ribbon through the center of the donuts and hang them from the string. They should hang just slightly above kids' faces.
What to do: At breakfast time, challenge kids to eat the dangling donuts without using their hands.
Want to add some spooky gothic décor? Check out these ideas.