How Being a Mom Made Rose Grant a Stronger Athlete

+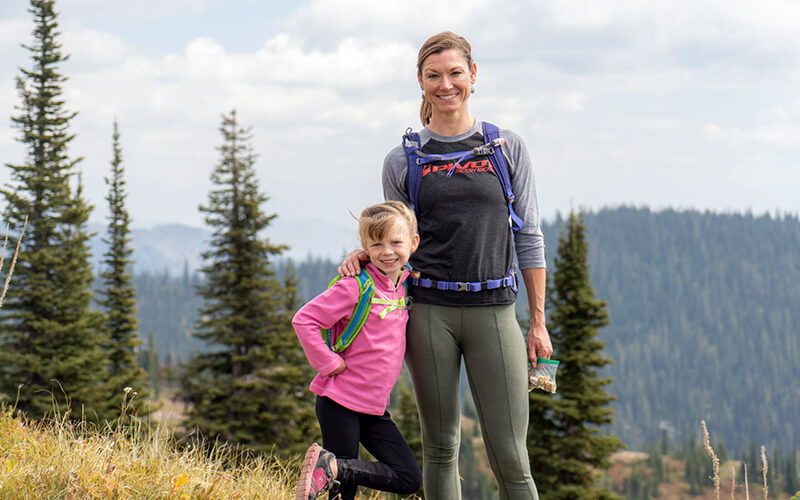 Like most moms-to-be, professional mountain biker Rose Grant continued her normal life when she became pregnant with daughter Layla. In fact, she had just started her pro career shortly before she discovered she was pregnant. In partnership with Natural Delights ®, she shares her racing story, nutrition tips, and how she's balancing career and motherhood.
Rose Grant was always athletic, playing sports in high school and college while riding her bike for enjoyment. Her brother worked for a local bike shop and was connected to mountain bike racing, but back then Grant never thought of professional mountain biking as a viable career option. "Unfortunately, the sport wasn't very developed in Montana when I was growing up, so I never got plugged in enough to stick with mountain biking," Grant says.
In her late 20s, after facing injuries from long-distance running, she began to ride her bike again and competed in a few local races in her hometown of Columbia Falls, Mont. After some success, she joined a local shop team, and the world of mountain bike racing once again entered her life. "It felt like a missing puzzle piece had finally been found," she says. "Mountain biking felt very natural, and I discovered that I had some talent on my side."
She entered the sport later in life than many of her competitors, with her first year of racing beginning in 2011 in an amateur age group. "That year I won national titles in both Cross Country and Marathon disciplines, as well as every regional race that I raced," she says. "Unarguably, I needed to upgrade to pro for 2012 in order to stay challenged and continue to grow." That next season Grant exceeded expectations for a first-time pro with a sixth-place finish in her first Pro Cross-Country Tour (XCT) race in Colorado Springs, which she describes as the stickiest, muddiest event she's ever raced.
Expecting the unexpected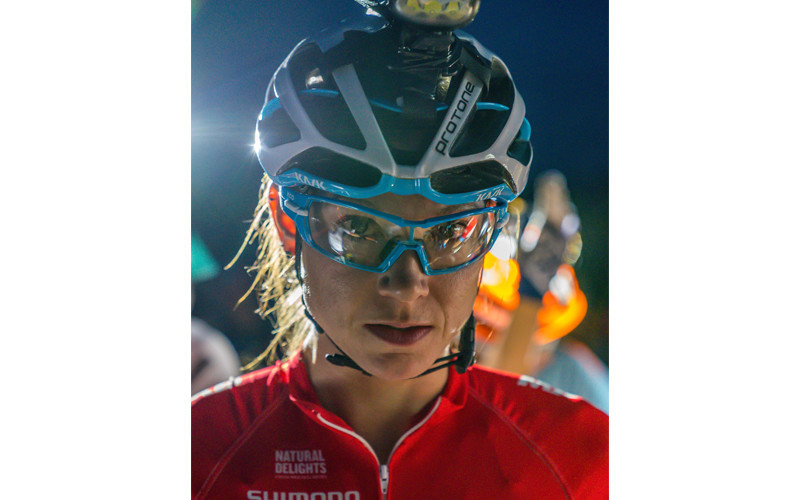 Photo Credit: Kenny When
It was around this time that something unexpected happened—Grant took a home pregnancy test following a three-day stage race in Fernie, BC, Canada, and it was positive. Despite the surprise, she proceeded to race Cross Country Nationals in Sun Valley, Idaho, finishing 13th, as well as the Missoula Pro XCT, which she considers her hometown race, where she finished sixth. During both races she was around nine weeks pregnant.
From there, however, she forfeited any remaining competitive pro-level race, as well as her structured training. Instead, she continued to race locally, taking a more relaxed and flexible approach. "Since I was so new to the whole industry at that time, I didn't have many expectations—competing while pregnant wasn't something I stressed out about," she says. "I was able to listen to my body and compete and train without anything to prove."
Maintaining a healthy pregnancy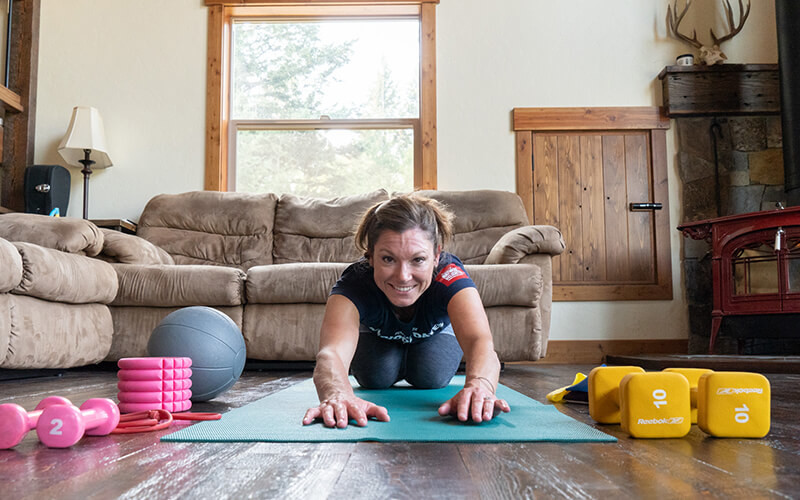 Photo Credit: Myke Hermsmeyer
The pregnancy weight gain was hard on Grant, but she maintained a positive attitude and did her best to stay active and mindful of nutrition. "I reminded myself that females were designed to gain weight during pregnancy and that it was necessary for the health of my baby and myself," she says. "I worked hard to control what I was able to, including paying special attention to diet and exercise, in order to set me up for success to be able to race after delivery in early spring."
She went back to running during the fall and winter, but it became too difficult because of round ligament pain, and she was unable to run after 28 weeks. She turned to Nordic skiing, riding the trainer indoors, with occasional outdoor rides on mild days. As for her diet, most of it remained unchanged from what she grew up with—relying on garden produce and wild game as well as Natural Delights® Medjool dates, which she felt safe eating, since they're grown without pesticides and are GMO-free and additive-free. "They are ultra-versatile in a wide variety of recipes, plus they have awesome performance-enhancing characteristics that I look for in riding and training nutrition, including 33 grams of carbs, which gives me energy, and a low glycemic index thanks to natural plant fiber," says Grant. "They also have 281 milligrams of potassium, which helps me with muscle recovery, so, for me, they are a no-brainer."
Getting back to racing post pregnancy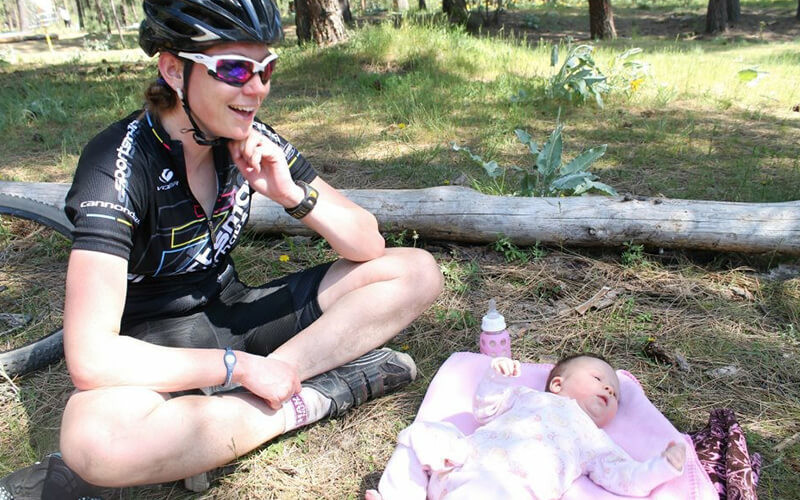 Once her daughter Layla was born, Grant didn't waste much time before beginning to train for her first big race goal postpartum, the Missoula Pro XCT. However, she quickly realized that she couldn't train at the same pace she had prior to pregnancy. "I had underestimated the recovery process, and it was slower than I expected," she admits. "I remember the first time I went out for a walk, I only made it about a quarter mile, but doubled my distance the second time, only doing what my body said I was able to."
She believes that having a goal that motivated her to work out helped stave off postpartum depression, as did a great support system. "The support from my husband and mother also allowed me to nurse for a full year, which meant I didn't travel without one of them and my daughter," she says. "I would warm up, nurse Layla, race, then nurse her again after I finished."
By the time Layla was three months old, Grant raced XC Nationals in Pennsylvania and finished sixth, despite almost unbearable heat and humidity. Since she was nursing, she had some concerns that the buildup of lactic acid in her breast milk during her races and hard workouts would affect Layla, so she would occasionally pump and dispose of the milk directly following a hard workout or race. But she says that, aside from a little extra spit-up, Layla always nursed without any hesitation.
Balancing racing and motherhood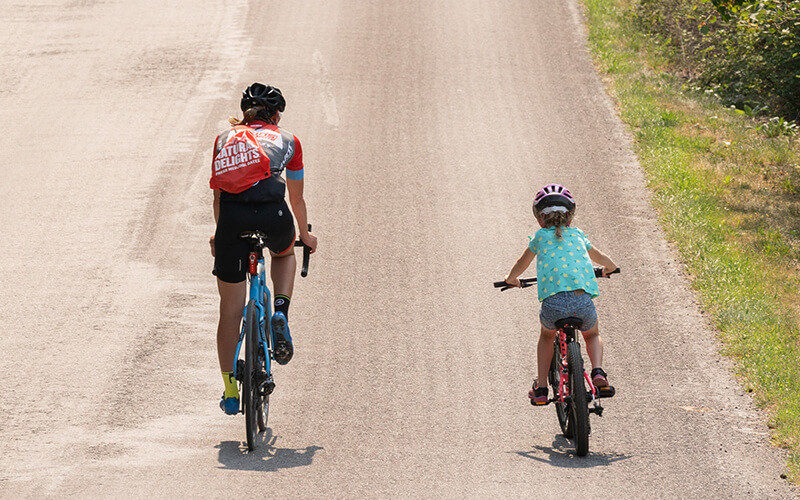 Grant admits that it's never easy to be on the road away from her family, but she does her best to mentally prepare her daughter and communicate before each competition. "I try to give her plenty of time to process what I'm doing, which means being attentive and discussing the details of my trip so she can understand it," she says. "We talk about who is going to be watching her, what she can expect, when I am going to call or video message her, where I am going to go, what I'll be doing, and how long I will be gone for."
While Grant is away, she touches base with Layla daily, both in the morning and before bed. "We [video chat] around bedtime and say her prayers and sing her songs just like we would at home," she says. "The hardest thing about being gone is losing that connection, so just having those little things in place beforehand makes a big difference."
In order for Grant to race and maintain a strong connection with her family, staying organized and planning ahead is key. "I take care of the home admin tasks and make sure child care is scheduled out," she says. "When I'm able, I try to pre-make some meals for Nelson [Grant's husband], who also juggles a busy schedule working in law enforcement."
Managing a healthy, nutritious, and well-balanced lifestyle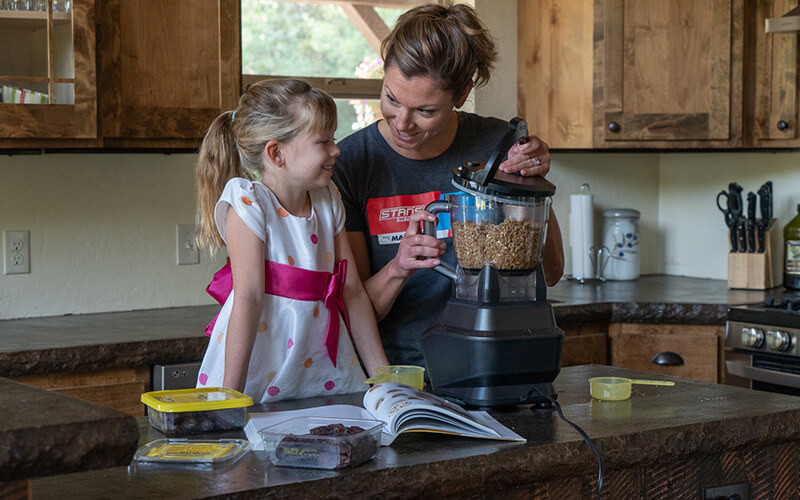 Since her pregnancy, Grant has emphasized a strong focus on nutrition, favoring a balanced diet that includes all food groups in their most natural state. "I try to buy food from the farmer's market and, when possible, organic. My husband also hunts and fishes, so we often have wild meat in the freezer, and I prefer to make those my protein sources as much as possible," she says. "I don't make separate meals for Layla, but I've had to get more creative to make sure she's getting plenty of fruits and vegetables."
In addition to cooking, Grant really enjoys baking and making treats in the kitchen. Her recipes are made with the best quality ingredients, like Natural Delights® Medjool Pitted Dates, and are packed with loads of nutrients, all while tasting incredible. These treats serve as pre- and post-workout snacks, breakfast, and dessert.
Here are some of the recipes Grant makes for her family on a regular basis—all nutrient-dense, with minimal processing and no added sugar!
1. Homemade Pizza
Ingredients:
Pizza dough
Mozzarella cheese shredded
Fresh basil pesto
Fresh arugula
Natural Delights® Medjool dates
Prosciutto
Directions:
Spread sauce generously on top of dough and sprinkle with shredded cheese. Bake for 15-20 minutes on 350°.
Spread basil pesto generously over dough, and top with shredded cheese and fresh arugula.
Add chopped or sliced Natural Delights® Medjool dates and prosciutto.
2. Grilled Chicken Medjool Date Bowl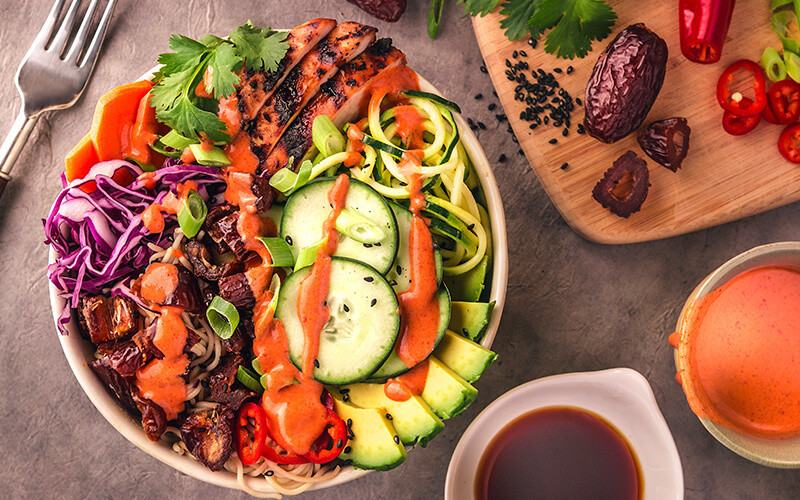 Ingredients:
4 Natural Delights® Medjool dates, pitted and chopped
1 zucchini, cut spiralized, and/or 1 cup brown rice or whole-grain ramen
1 cucumber, sliced
1 avocado, sliced
1 carrot, sliced
Chunk of purple cabbage, sliced
2 grilled chicken breasts or other cooked chicken meat, sliced or cubed
1 Fresno red chili pepper or jalapeno, sliced
Handful of cilantro
2 green onions, sliced
Medjool Date Ponzu
1/4 cup soy sauce (or gluten-free Tamari)
1/8 cup orange juice
1 tablespoon lime juice
1 teaspoon rice vinegar
1 tablespoon Medjool date syrup (see recipe)
Sriracha Sauce
1 tablespoon mayonnaise or sour cream (optional)
2 tablespoons Sriracha
1 teaspoon lime juice
Directions:
For the base, start with spiralized zucchini and/or ramen, split between two bowls. Pile 'em up with remaining ingredients.
Medjool Date Ponzu: Mix all ingredients and drizzle over bowl.
Sriracha Sauce: Mix all ingredients and drizzle over bowl. To lower fat and calories, Rose uses sour cream in place of mayonnaise. Smart!
3. Pesto Arugula Salad
Ingredients:
Potatoes
Salt and pepper
Fresh arugula
Basil pesto
Sharp cheese (white cheddar, goat, feta)
Avocado
Hemp hearts
Toasted cashews
Natural Delights® Medjool dates
Directions:
Dice potatoes of choice, and either pan fry until golden brown or bake on a baking sheet with olive oil until tender and golden brown; season with salt and pepper.
Place arugula in a bowl and top with hot potatoes and pour basil pesto over them. Toss until the pesto evenly coats the greens and potatoes.
Top with cheese, avocado, hemp hearts, cashews, and Natural Delights® Medjool dates.
4. Steel Oats With Medjool Dates and Wild Huckleberries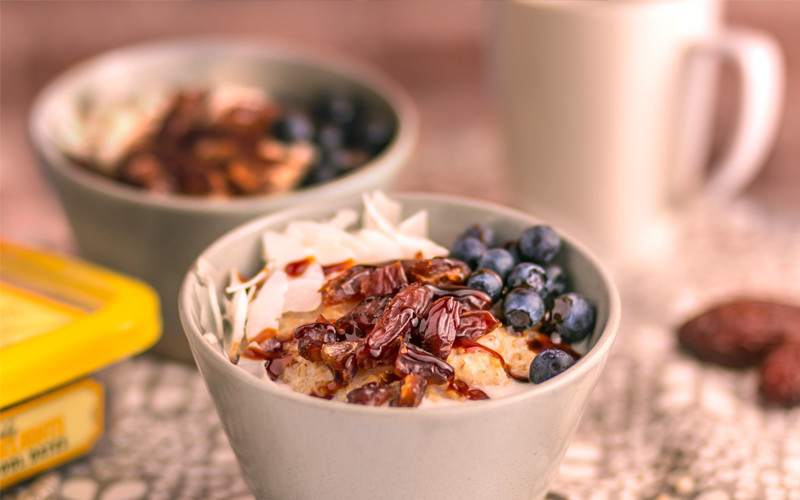 Ingredients:
1 1/2 cups prepared steel oats
2 Natural Delights® Medjool dates, pitted and chopped
1/2 cup wild huckleberries (or blueberries)
Handful of shaved unsweetened coconut flakes
1/2 cup almond milk
Directions:
Prepare steel oats according to package directions and split between two bowls (3/4 cup in each bowl).
Top each bowl with Natural Delights® Medjool dates, wild huckleberries (or blueberries), shaved unsweetened coconut flakes, and almond milk.
Drizzle with Medjool date syrup.