A Family's Fight for Life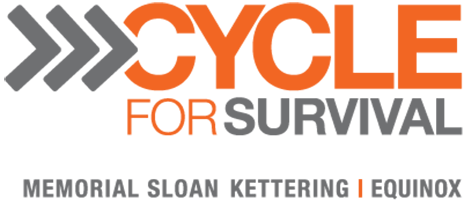 +

Clara was just four years old when she was diagnosed with a rare cancer. Follow her and her parents' journey from diagnosis to recovery.
Credit: Holly Kunze Photography
When Katie and Kevin Stenson's four-year-old daughter Clara complained of a pain in her side, it began a journey of medical visits that culminated in Katie bringing her to the ER when she seemed to be getting worse. After an ultrasound, a CT scan, and a seemingly endless wait, a doctor came into the room and sat down. He told Katie, "you're going to be with us for a while." That was when she knew it was serious.
There was a ten-centimeter mass in Clara's chest wall. "In your mind you hold out just a sliver of hope," Katie says. "Maybe this is some strange infection or maybe it's something different… but we knew."
The mass was a tumor, a result of Ewing Sarcoma, a pediatric bone cancer so rare there are only 200-250 cases diagnosed in the United States every year.
Clara began chemotherapy to decrease the tumor's size, but the Stensons weren't given an option for surgery. Their oncologist told them the tumor was inoperable. That's when Katie's heart fell through her stomach.
Like any parents would, Katie and Kevin looked for second and third and fourth opinions. The approaches at the centers they visited varied, with differing opinions about how much of the tumor could be removed, if not all, and how much radiation she would need with each approach. This discussion was always followed by a discussion of how much radiation a 4-year-old child's body could handle. The main question in their minds was, what approach would give her the best chance with the fewest long-term side effects.
They weren't sure where to go next. "They don't give you a manual of what to do when your child's diagnosed with a rare cancer," Katie says.
In all their research, they came across an article on Ewing Sarcoma written by a specialist. He worked at Memorial Sloan Kettering. They made an appointment and booked a flight to New York City.
Lining the walls of the doctor's office were Christmas cards from healthy children who had had surgery years before. When the doctor came in, he spoke directly to Clara and included her in the conversation. "That's what impressed me," Kevin recalls. The doctor spoke positively about the procedure. He was confident he could get the entire tumor out with surgery, and in turn, use less radiation.
In other words: The tumor was operable. There was hope.
The Stensons stayed at Memorial Sloan Kettering for Clara's surgery, chemotherapy, and radiation. The doctors made a mold so Clara could lie still in radiation with her teddy bear, Teddy, without using unnecessary sedation. Katie would sing to Clara and Teddy through the intercom, and afterwards they'd clean out the candy store by where they were staying.
"She was stronger than all of us," they laugh. "We tried to sneak pain medicine in chocolate ice cream, but she wouldn't take it." The day after surgery, she pushed herself to walk. "It was clearly painful, but she did it," Katie says. Six days after surgery, she was discharged from the hospital and played in Central Park.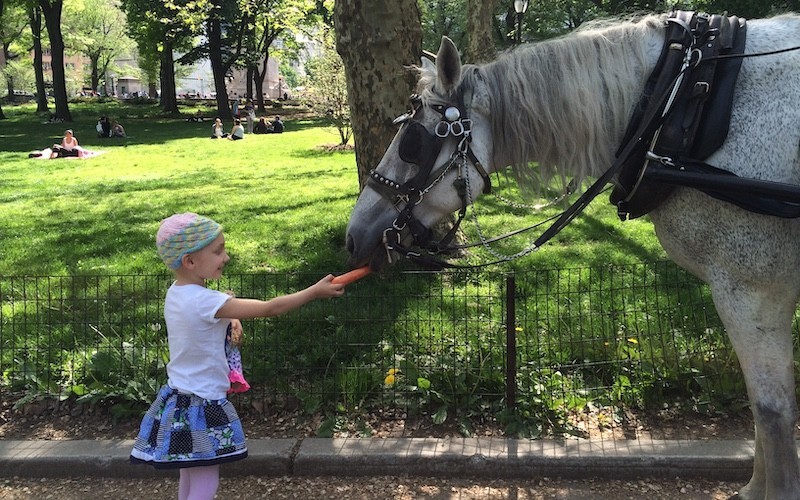 Clara's now eight years old. She loves to swim and do rock climbing, but she still has to check in regularly to screen for side effects of the chemotherapy from years ago. "They just throw the kitchen sink at these kids," Katie explains. "In the moment, you're just fighting for their life. You do everything you can. But if more research can go to rare cancers and they can find more targeted therapies, it would spare kids some of the potential side effects down the road."
This is what drew the Stensons to Memorial Sloan Kettering's Cycle for Survival, and why their family has made it their mission to raise money for rare cancer research. They ride at the indoor cycling fundraiser at Equinox in Chicago in celebration of Clara, and to help those who have come after her in facing a rare cancer diagnosis. The family's efforts, along with more than 37,000 other participants across the country, is what has enabled Cycle for Survival to raise more than $250 million for cancer research and clinical trials. Every dollar raised goes directly to doctors and scientists. The Stenson family hopes that one day all patients will have the most effective and least harmful treatment options.
Katie and Kevin recently brought Clara to the ER. She broke her arm falling from the monkey bars at recess. "It's strange, you never want to end up in the ER with your kid," Katie says. But this time, "nobody told me I was going to be there for a while."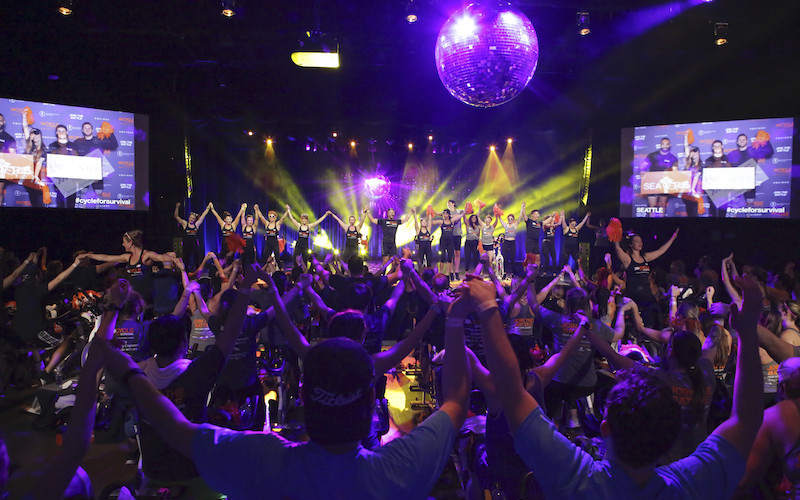 About half of all cancer patients are fighting a rare cancer, and they often face limited or no treatment options. As Memorial Sloan Kettering doctors and researchers pursue new treatments, Cycle for Survival provides urgently needed resources. Cycle for Survival, the movement to beat rare cancers, raises money through its signature indoor team cycling events across the United States. 100 percent of every donation funds rare cancer research and clinical trials to improve lives worldwide. Together with the movement's founding partner, Equinox, Cycle for Survival has made a direct and meaningful impact for patient care and scientific discovery.
Head to the Cycle for Survival website to learn more about the cause and donate.