5 Ways to Keep Your House Clean(ish) When You Have Young Kids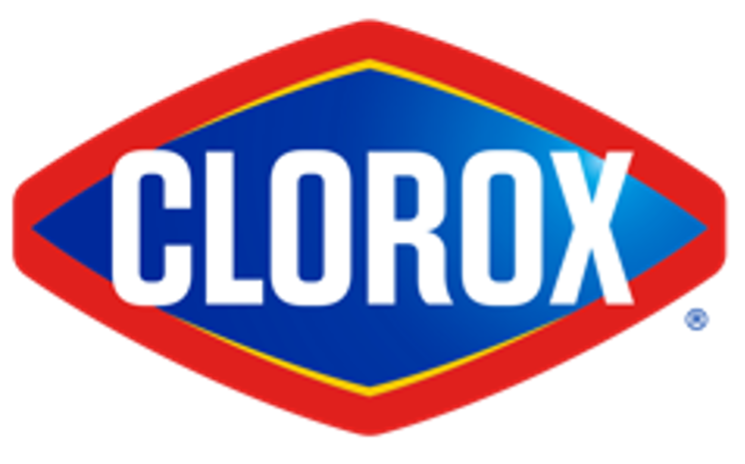 +

With three active sons under age eight, Los Angeles-based fitness instructor Maria Leguizamon faces mountains of laundry, dishes, sports gear, and toys every day. Here's how this super-busy mom juggles parenting, work, and home life.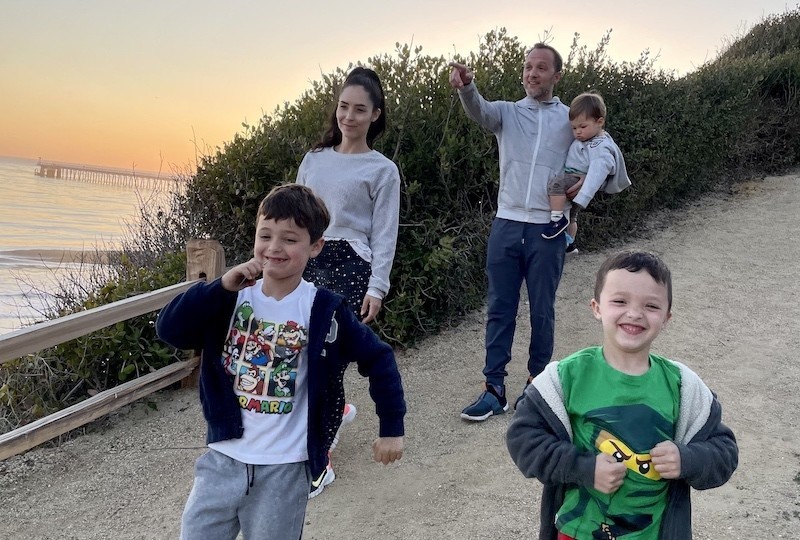 1. Tidy as You Go
"I'm a go-getter that likes to get things done. So, as I'm walking around my house, I'm always picking things up, cleaning, putting things away, doing laundry. I know that if I do it right now, using products I can trust to work the first time, I won't have to worry about it later. And then, when I finally do get some free time, I can rest!"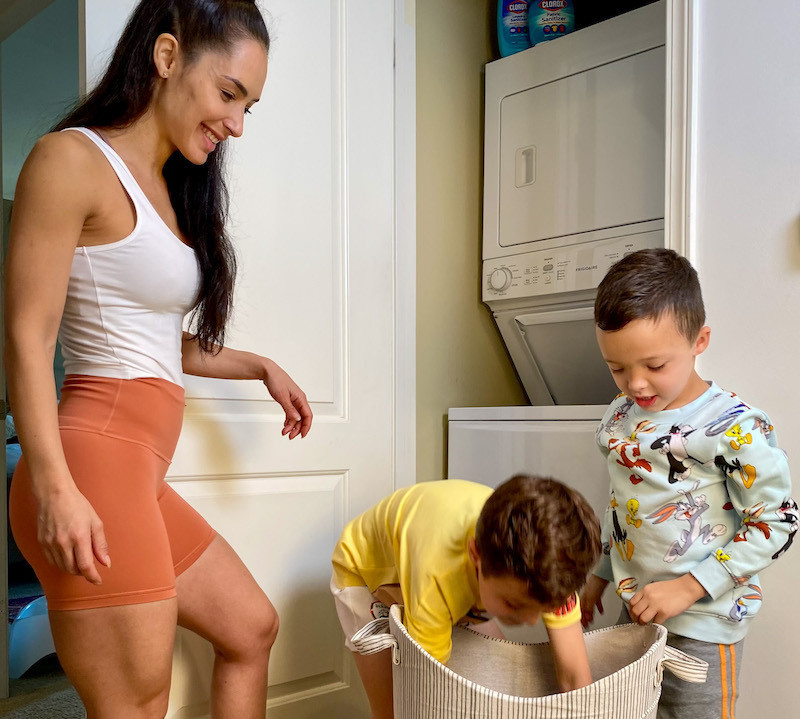 2. Get Your Kids to Pitch In
"My boys are 7, 6, and 16 months old. And my husband Jay can be just as messy! One good thing to come out of the pandemic was having so much family time together. I took advantage of that by teaching the kids how I was taught by my parents: A clean house is important, and you guys can do lots of little things to help Mommy. Now, the two older boys make their beds every morning—not perfectly, of course, but they're doing it! I'm also trying to teach them to put their dirty clothes into the laundry hamper."
3. An Active Lifestyle Makes Even More Laundry, but That's Okay!
"We hike together as a family all the time, and my kids love soccer—my oldest wants to be a world champion! My middle son is obsessed with basketball, too. The boys are always running, sweating, getting dirty, changing clothes. That's why I have so much laundry! Clorox® Laundry Sanitizer has been amazing for eliminating all those stinky sports odors that washing with my regular laundry detergent can leave behind. I just add it to where I put fabric softener, run the wash, and it knocks out 99.9% of odor-causing bacteria. I like that there's no bleach and that it's safe for most fabrics—one less thing for me to worry about!"
4. Take Advantage of Downtime While Working From Home
"I've learned to clean in spurts. I teach virtual fitness, yoga, and body sculpting classes with up to 600 participants from around the world. In between classes, I'll load the dishwasher or throw in (yet another) load of laundry. Then I'll wipe down the kitchen table or organize my youngest son's toys. I'm always in motion, because there's so much to do at home. I like my house to be really organized and clean, and it's difficult when you have kids—plus a puppy!—but we try our best."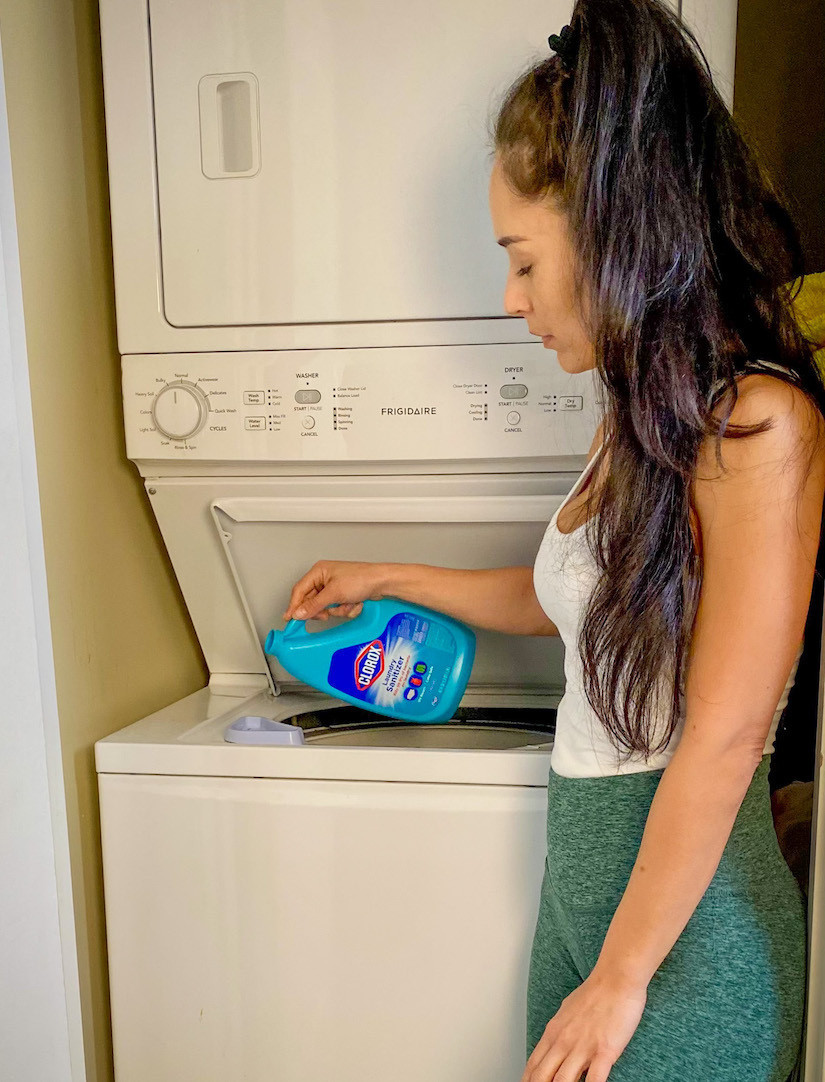 5. Use Products That Do Double-Duty
"I don't have time to go through a bunch of products every time I wash my family's stuff, so I'm a big fan of how Clorox® Laundry Sanitizer eradicates odor-causing bacteria and makes everything smell so fresh. For my baby's accidents and spills, the Clorox® Fabric Sanitizer Spray is a great way to target stains on his clothes and sheets before throwing them in the machine. And for things that aren't super dirty, but have odors that need a quick refresh before we're off to the park, I'm loving the Clorox® Fabric Sanitizer Aerosol for sweaters, gym bags, or jackets. Anything that buys me a little time before doing the next load of laundry!"
Learn more on how Clorox® Laundry Sanitizer helps give clean laundry a whole new meaning.
Use as directed.