TurboTax- Free Federal File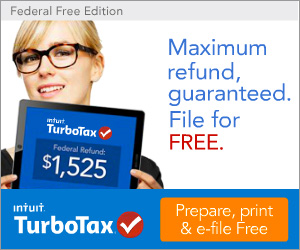 Use TurboTax and e-file your federal taxes for free.  (State returns are an additional fee or you can paper file them for no cost.)  With TurboTax you'll get your biggest tax refund guaranteed, with 100% accurate calculations, free help, and step by step guidance so you are confident your taxes are done right.  TurboTax has also been the #1 Rated, Best-Selling tax software brand year after year.
Here's what reader Courtney had to say about her experience with TurboTax:
I agree that it's fairly easy to file taxes. I'm an independent contractor and I've been filing my taxes on my own for years. TurboTax has an easy navigation system that asks specific questions to allow for the greatest return. I also tested this to make sure I was getting the correct amount by taking my taxes to a professional and they came up with the same number.
Filing our own taxes is one of the easy ways we save money.  Some of you might question the easy part, but unless you have complicated taxes it's really quite doable.  In fact I've done my own taxes ever since I've started filing them.  When I was single my Dad uses to help me do them and we paper filed back then.  Talk about time consuming!  Once I was off at college I learned about filing online for free and took advantage of that and that's what we've been doing since we are married too.
If you'd rather, H&R Block is also offering FREE federal tax filing!
Add a Comment