Free $5 Amazon/Walmart Gift Card When You Join Plink Rewards Program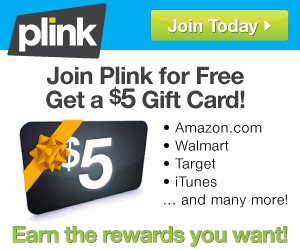 Have you heard of Plink, the new dining and retail rewards program?  With Plink you can actually get paid to eat out and/or make purchases at select retail stores!
Right now Plink has an incredibly hot offer. When you sign up and attach one of your credit/debit cards to your account Plink will give you a free $5 Amazon (or Kohl's, Walmart or Tango) gift card- no purchase required!  Plus when you used your linked card to pay for purchases at select restaurants and retailers (places like Red Robin, Burger King, Old Navy, Gap, Dunkin' Donuts, Outback Steakhouse, Arby's and more) you can earn more points which you can then redeem for more gift cards!
I signed up for Plink today and within 5 minutes of adding my credit card to my account I was able to redeem my points for a $5 Amazon gift card!  It was incredibly simple and incredibly fast.
Still unsure?  Check out their good rating at Better Business Bureau.
Add a Comment