Amazon: Free 15 Song Celtic CD and ebooks, 24¢ Batteries, 34¢ Coffee K-Cups, $5 Tide (50 oz.), Inexpensive Huggies Wipes,
If you don't have time to shop drugstore deals with coupons then Amazon deals are a great alternative.  In fact, sometimes Amazon sale prices even beat grocery and drugstore sale prices.  And the awesome thing is, you can shop from your own home and even use your Swagbucks to pay for your Amazon purchase!
Keep in mind that Amazon prices can change at any time so I can't guarantee how long these prices will be valid.  Also, remember that you can cancel your Subscribe & Save order at any time.  With the Subscribe & Save option, unless you cancel the subscription, you will continue to get that order regularly.  So if you only want to get an item one time, AFTER the order arrives, simply go to "My Account" then "Subscriptions" to cancel your Subscribe & Save subscription.  (It works best for me to do this as soon as the order arrives that way I don't forget!)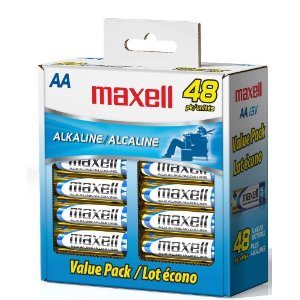 * Maxell AA 48 Pack Box Battery
- on sale for $11.66 with Subscribe & Save or just $0.24/battery.  That is an amazing price!
* Huggies Soft Skin Baby Wipes, 448 Count
- are priced at $11.39 with Subscribe & Save plus there is a $1 coupon that you can clip (found right below the product description) making your cost just $10.39 or $0.023/wipe.  PLUS if you have Amazon Mom you'll get an even better price!  If you don't do the drugstore deals this is probably one of the best prices on wipes that you'll find.
* San Francisco Bay Coffee for Keurig K-Cup Brewers, Breakfast Blend, 80-Count- Love your K-Cup?  Get this fair trade coffee for just $0.34/cup with Subscribe & Save.  It has a 4 1/2 star rating out of 498 customers so it must be good stuff!
* Quilted Northern, Ultra Plush, Double Rolls, [6 Rolls*8 Pack] = 48 Total Count
- Wowzers, this is a great price on Quilted Northern toilet paper.  If you choose the Subscribe & Save option and clip the $1.00 coupon (found below the product description) you'll pay just $0.45/roll!
* Tide Free and Gentle High Efficiency Unscented Detergent, 50 Ounce (Pack of 2)
- On sale for $11.38 plus clip the $1.50 coupon (found below the product description) and you'll pay just $4.94 for a 50 oz. bottle!  A great way to save on doing laundry!
——————————————————————————
Below you'll find a free CD and some ebooks.
* 15 Song Celtic Music Sampler
* I Have Cancer. And I've Never Felt Better!
* Consider the Cross: Devotions for Lent
* Funny Woman Guide to Get Organized NOW! or at Least Sometime Before You Die. . .
* 33 Ingredient Substitutions To Help You Cook Amazing Foods Even When Your Cupboards Are Bare
* KEEPING TODDLERS BUSY!
Add a Comment