I don't get it. When Fia is at home she is the most outgoing, funny, confident 3 1/2 year old. When we have her best friend Teddy over, she is just as gregarious. One on one or with just a few of her friends, she is great.
But when I take her to her preschool, she gets clingy and doesn't want to participate. Yet, the hour leading up to preschool it's all she can talk about. How excited she is, how she loves to nap at school, etc. And once she is there, I'm told she warms up. Though the teachers say it does take awhile and they have to push her a bit.
If it were just school, I'd think maybe the place wasn't the right fit for her. But it's also gymnastics. And with our cleaning ladies. And babysitter.
For example, every Wednesday Sheny and Lucy come to our house at 8 a.m. They are warm and loving. Yet it is a struggle to get Fia to say "Good Morning." We started prepping her.
"When Sheny and Lucy come, what are you going to say?" we ask.
"Good Morning!" Fia declares with enthusiasm.
Then they walk in and nothing. She puts her head down and clings to our leg. It is somewhat maddening.
In gymnastics she's gotten better at participating after we kept encouraging her–and a few times bribing her with the promise of a yogurt covered pretzel. But still, at "drinking fountain time," 8 boys and girls run giddily across the room, laughing with one another. Fia walks. Now granted, she walks with a little sassy sway in her and I kinda dig that she doesn't have to run with the pack, but I just wonder sometimes what is going on in her mind. I don't want to project anxiety on her, and maybe she just goes to the beat of her own drum, but still…I am left puzzled.
With our sitter Michele, whom she loves, Fia greets her happily.
But then she always comes to me and asks, "When is Michele leaving?" The exception is when Michele brings her twins, Maci and Cruz. Then it's happy chaos all around. But If I am putting her down for her nap and the twins aren't here, it's the last question she asks before she goes to sleep and the first when she wakes up.
"Is Michele gone? Did you tell her to go home?"
I suppose part of this is wanting to know "the plan" and what is up. I can imagine in the world of a toddler, you have no control, so you crave it on any level.
We did have a breakthrough last Wednesday. We prepped and practiced for Sheny and Lucy to arrive. When they did she perked up and said louder than her usual whisper, "Good Morning!" Then she hugged them. When they left the room, Fia was beaming. I said, "How did that make you feel?" She nodded her little head, while bouncing up and down with pride. "Really good mama, really good."
So I feel like we take a few steps forward, then suddenly will revert and go backwards again. Maybe this is just part of normal toddler development. Maybe she's just a little shy, or it takes her longer to warm up to someone. I don't think she likes chaos and I know at her preschool, when the whole pack is out playing and being wild, she tends to shy away. Two weeks ago I showed up and she was the only kid inside, quietly coloring. All the others were outside. On some level it hurt my heart. But again, if she's not sad or anxious, then it doesn't matter, and I shouldn't feel sad right?
What do you guys think? Any insight or advice?
When you have kids, you end up needing a separate house to basically store their upbringing. The artwork, the pictures… you know, all their "stuff." If you're at all sentimental, you feel guilty tossing that piece of paper that has a fuschia smear. Especially after they tell you it's a self portrait. Then the guilt is equivalent to throwing away the Mona Lisa.
Until it's not.
I thought I had a pretty good idea for all the artwork Fia comes home with. I use it as wrapping paper. That way I'm reusing it and I don't feel guilty for throwing it away. It's someone else's problem. Plus she has fun wrapping the presents with me.
However, we don't go to enough birthday parties to use up the constant influx of art.
When I was at Mom2.0, I met this great guy Jedd, who created an app for parents that allows them to save their kids' art in a different way.  It's called Artkive. Get it? Like archive… okay, I'm babbling.
The app is amazingly simple to use… even a third grader could probably handle it. Which means I can.  You take a picture on your phone (thru the app–which has an icon for the camera) of your child's artwork, school work, or whatever you want to document. Just take pictures. Like, every piece that comes in if you want.
If you have more than one child, you pick who created each piece, and the pictures then get stored (on their servers, thus not taking up precious space on your phone) with your child's name, grade and the date.  It's all in order so that when you're ready, you hit print and the app puts all the artwork into a coffee-table book that is mailed to you.  Almost no work and no risk of your child finding their art in the garbage. Speaking of, here's a funny video on the psychological damage done to your kid when you throw their sh-t, err, stuff away.
I wrote a few weeks back about my quandary with photos and what to do with them all. Well you could use Artkive for that too. You can upload anything from your camera roll and then rather than ordering 900 prints a year to go into 9 different photo albums (which is my current system), I can add my favorites to Artkive and get a book made for me. Or, just skip that step and take every picture through the Artkive App on my phone.
Jedd started the company after watching his wife photograph their kids' art one day. She then uploaded it to her computer and uploaded it from there to a photo site.  She never actually made the book she had hoped because the pictures were all out of order and she didn't have the time to spend sorting it all out and making a book.  So he created an app that would make her life easier.
What a guy, right? I'm waiting for Phil to hire a personal chef after watching me struggle in the kitchen.
Anywho, it's a small business enterprise that I just thought as a mom myself was cool and invented by cool people. And hey, Ivanka Trump apparently likes it. Need I say more?
You know how I feel about the whole EC–Elimination Communication movement. As in potty training your kid from the moment they are born and going to weekly support groups that revolve around talking sh-t. Um, no. Not happening.
So I had to dive into the discussion stemming from an article in Gothamist about publicly defecating. On purpose. We're not talking about a homeless person down on their luck either.
The snapshot is of a little boy on one of those porta potties for kids. He is sitting on it outside, at, ya ready for this? A cafe. Specifically Pier 1 cafe that overlooks the Hudson River. Diners eat while he poops. I have never….
Now I know kids have little bladders and if you are in a park without a bathroom or something, having one of those porta potties can be handy. Especially because you can keep it in your car and your kid can use it. In Your Car. In Private. But at a restaurant? Where there is a bathroom?
The nanny was apparently with the kid. But honestly, this must fall on the parents. I can only assume they made her take this thing everywhere. I am also making the assumption that they are entitled and uptight. Because this is what the latest breed of entitled, uptight parents do. I can just hear it, "We can't let anything interrupt little Johnny's poo."
I mean, come on you guys, tell me you agree on this. Tell me this is extreme parenting at the sh-ttiest level.
Please note:  Parents changed the comments section on all the blogs and you can only post a comment via Facebook.  Scroll down to the end of this post and you will see the Facebook icon. Thanks!
Pic of boy via Shutterstock
This is how my bad day turned good:
I ran into the grocery store in the midst of a sh-t storm I was dealing with on the homefront. You know, one of those awful, horrible days. My friend Delia Ephron had told me she had written an article in MORE Magazine this month (the May 2013 issue) and had mentioned me. She said it had to do with being fearless.
Naturally curious, and wanting to support her, I grabbed a copy in the check out line. Back in the car I had 4.33 minutes to get home for my sitter. I quickly opened up the magazine. The "Jill" she is referring to is ME! I read her article and burst into tears. You know when you just really need to know someone believes in you?
So here is to being fearless. Or at least trying!
The Art of Fearlessness, by Delia Ephron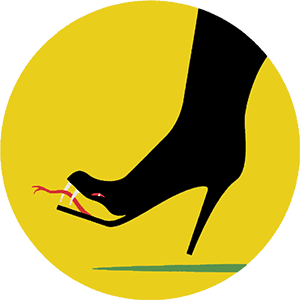 Published in MORE Magazine
I DON'T DO THERAPY.
I used to do therapy. I had a psychotherapist in my twenties when I was unhappily married. I don't even remember the shrink's name, although I do remember the names of all my bad boyfriends. How ironic is that? ow that I am veering out of middle age, I don't have time for a talking cure. I'd be in a nursing home by the time I solved the problem.
Instead, I work from the outside in. In the lifelong battle of empowerment versus insecurity, calm versus anxiety, positive versus negative, I swear by these tricks:

BOOTS. When my sister Nora and I wrote a play, Love, Loss, and What I Wore, we asked our friends to tell us about their favorite clothes. Tales of boots poured in. Boots matter, I realized. They make a woman feel brave, strong and grounded and, I almost forgot, hot. I invested in a pair, blue-gray suede, kick-ass. I want to tell you that when I wear these boots, I feel fearless, like Carrie in Homeland, but she is out of her mind, or assured, like Alicia Florrick in The Good Wife, but she has given up sex with Will Gardner, so who wants to be her? Nevertheless.

A BLOW-DRY. Nothing gives a girl more confidence. Woody Allen has written that he would never have wanted to live in a time before antibiotics were invented. For me it's the blow-dry. Without one, I look like a woolly lamb.

SILVER HOOP EARRINGS. Recently I was booked on Morning Joe. No pressure, just three minutes to say something wonderful that would make viewers rush to read my book. "Do I look OK?" I asked the makeup woman. She considered my face and hair and said, "Silver hoop earrings." Then she said, "Power," as if that were the definition of silver hoop earrings. She took off hers and lent them to me. I don't know whether it was her kindness-the sisterhood of that-or if she's right, that silver hoops have power, but those earrings gave me an extra charge. A few days later, I bought a pair of my own.

JILL. We all have a girlfriend more daring than we are. Mine is Jill. She climbed Mount Kilimanjaro. She trekked through Mali and slept on roofs. Until I met Jill, my idea of a hike was the one block uphill from the subway to my doctor's office. So last year, when I had to travel to several cities to give talk , I decided to be Jill. I would arrive at the airport pumped, as if embarking on a great adventure. I would make eye contact with seatmates on airplanes. I would be O-P-E-N.
I got on a plane to Nashville and found myself talking to a woman named Laura Heatherly, who runs a music-industry charity. Would I like to come to a benefit? I was Jill, so I said yes.
But you never know when your timid old self will resurface. In my hotel room, I was seized with a desire to dive into bed and order up a Law & Order marathon. Instead, I called Jill.
"Go for 15 minutes," she said. "If it's awful, leave."
I did go and it wasn't. Culinary legend Lidia Bastianich did the food. I sat at a table with Steve Cropper, who cowrote "(Sittin' on) The Dock of the Bay," not that we spoke, but hey. And my hosts, Laura and her husband, Bob, epitomized Southern hospitality.
On the way home, my flight was delayed. I was Jill, so I chilled.*
On Friday I was thinking that sitting in a corner taking Xanax might be the perfect Mother's Day for me. This, after Emmett peed on my leg like I was a fire hydrant (he was naked as I was about to put him in the bath). Then giggled.
The day only got better.
I had to take Wayne to the vet. And Emmett. And Fia.  As I was being told Wayne once again is obese, and no longer my Biggest Loser, Emmett took a pack of crayons and threw them at the cat. Of course this spooked Wayne and fur went flying. Once again, Em laughs. Fia starts screaming "Emmett, don't do that." The vet looked at me and said, "Let me get the receptionist to start working on your bill so we can get you out of here quickly."  Clearly I'm their favorite client. I bribed Fia with a lolipop and Em with his pacifier to just sit the f-ck still.
When we got home I gave Wayne a treat in his bowl. I turned my back for a second. Emmett came running out of the room with the ceramic bowl, threw it across the room where it shattered, then began laughing. He may actually be insane. But insanely happy too. This all happened before 11 a.m.
Do I deserve Xanax? Yes. Maybe 5.
Regardless of how I celebrate my day, I figured posting pictures would help calm me down. And it does. So here goes. I'm taking the rest of the weekend off.
Happy Mother's Day, Everyone!
Okay, so maybe he looks a little like a barking seal in this picture. After all, we were at the zoo. But I just love how happy he looks. Man, did I get a good one (except that he is WILD)! Pure joy, this boy.
Emmett's first carousel ride. Clearly he hates it.
Fia on her favorite giraffe!
Both of my babies.
At friend Lazlo's birthday party
Bubble Time
Alone on the high beam–and giving me a heart attack!
Water play!
 I know I've posted this before, but I can't help but do it again: my beautiful boy!